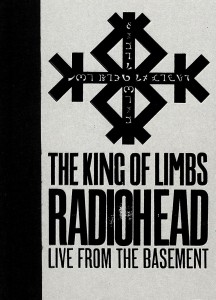 From The Basement is a live studio performance of The King of Limbs. Included in the programme are performances of unreleased songs, 'The Daily Mail' and 'Staircase' and  'Supercollider' has been added as a bonus track.
Both DVD & Blu-Ray options come with a 32 page hardback book of photos from the recording session.
A must have release for all Radiohead fans!
Release Date: 10th February 2012
Tracklisting:
1. Bloom
2. The Daily Mail
3. Feral
4. Little By Little
5. Codex
6. Separator
7. Lotus Flower
8. Staircase
9. Morning Mr. Magpie
10 .Give Up The Ghost
11. Supercollider
DVD specifications:
DVD5 single layer disc
Audio
LPCM STEREO + DOLBY DIGITAL 5.1
Screen format 16:9
Blu-Ray specifications:
BLURAY disc
PAL 50i
Audio
STEREO + DOLBY DIGITAL 5.1 + DTS HD SURROUND
Duration for both formats:
• MAIN – 53.51
• BONUS – 5.37
TOTAL RUNING 59.28