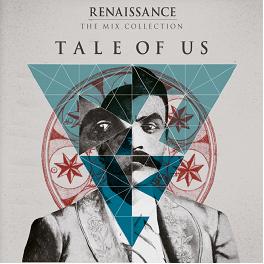 Berlin-based DJ and production duo Tale of Us take a step back from their busy touring and production schedule to compile the latest instalment of Renaissance's 'The Mix Collection' series.
Throughout their first mix the duo move effortlessly between the driving aesthetics of Kollektiv Turmstrasse and anthemic highs of Scuba to more experimental and angular remixes from Baths and Four Tet. The second mix takes a distinctly more mininal approach, with the textures of Daniel Avery, Recondite, Robert Hood and Extrawelt's productions taking the driving seat and remixes from the likes of Donato Dozzy and DJ Koze switching up already excellent originals. Across both mixes Tale of Us have managed to balance the deep, melodic, upbeat and sometimes more challenging elements of electronic music through careful selection and programming to ensure both have the flow and finesse that listeners have come to expect of a Renaissance release.
Tale of Us are certainly no strangers to the decks, between throwing their own 'Just This' secret loft parties in Milan, regular fixtures at renowned clubs such as Berlin's Watergate, Ibiza's DC10 as well as live and DJ sets at festivals such as Sonar and Movement. Alongside this, their productions have caught the attention of Seth Troxler, Shaun Reeves, Ryan Crosson and Lee Curtiss, who released their debut EP on Visionquest in 2011.
The Mix Collection series saw it's inaugural 1994 release from Sasha & John Digweed, who set a new standard for the DJ compilation format. Since then Renaissance has undergone a musical shift, with recent contributions from M.A.N.D.Y., Gui Boratto and now Tale of Us helping to bring the original spirit of the brand to a new generation of music aficionados.
Tracklisting
CD1
1) Gran Cavaliere – Dancing Alma
2) Mathew Jonson – When Love Feels Like Crying
3) Tale of Us & Clockwork feat. The/Das – Life And Death
4) Kollektiv Turmstrasse – Ordinary (Lake People's Circle Motive Remix)
5) Kollektiv Turmstrasse – Heimat (Robag's Turmkolle Rekksmow)
6) Roman Flügel – Cookies Dust
7) Scuba – Hardbody
8) Gold Panda – Marriage (Baths Remix)
9) Delta Funktionen – Nebula
10) Sei A – Frozen Flower (Midland Remix)
11) Wareika – Burnin'
12) Simian Mobile Disco – Cerulean
13) FaltyDL – Straight & Arrow (Four Tet Remix)
14) Closer Musik – Departure
15) Tale of Us – Obscure Promises (Exclusive Track)
CD2
1) Daniel Avery and The Deadstock 33's – Magnetic (Barnt Remix Overture Edit)
2) Roman Flügel – Softice
3) Tin Man – Nonneo (Donato Dozzy Remix)
4) Carl Craig – At Les (Christian Smith Hypnotica Remix)
5) Recondite – Felicity
6) Argy Feat. Bajka – Upon Ourselves (Osunlade Stripped Mix)
7) Mind Against – Cagliostro
8) Lake People – Point in Time
9) Herbert – It's Only (DJ Koze Mix)
10) Seph – Zoom (Bi)
11) Triola – Leuchtturm (Wighnomy ́s Polarzipper Remix)
12) Robert Hood – Hate Transmissions
13) Daniel Avery – Water Jump
14) Petar Dundov – Distant Shores
15) Extrawelt – Phoebe
16) Area Forty_One – P.R.T.C.T.N.
Release Date: 1st March