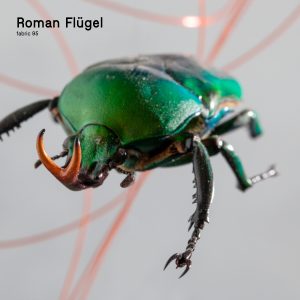 Roman Flügel was part of the legendary German label family of Playhouse, Klang Elektronik and Ongaku, where he would release almost all his early music. Alongside other Frankfurt techno artists he would go on to form the spine of the scene for the next decade.
Flügel's numerous production aliases include Eight Miles High, Soylent Green, Tracks On Delivery and Roman IV. His later work has largely been with independent German label DIAL with whom he's made three albums.
fabric 95 champions the sound that Roman Flügel has explored since his early years: abstract, idiosyncratic and tense at times, but ultimately warm and inviting. Seamless mixing provides a platform for all manner of emotive melodies, vocals and oddities to flourish over the course of the compilation.
Tracklisting
1. Genesis P-Orridge & Psychic TV – White Sky
2. RiRom – RoRic (Original)
3. Tuff City Kids feat. Joe Goddard – Tell Me (Benjamin Fröhlich Long Journey Remix)
4. Roman Flügel – Troubled Mind
5. Koehler – Oblivious Pool (Invisible Dub)
6. ishi vu – Lucid Dream
7. Pale Blue – Comes Home (Pional Remix)
8. Lawrence – Clouds and Arrows (Roman Flügel Remix)
9. Two of A Kind – Like This
10. Eamon Harkin – Are You Listening?
11. Red Rack 'em – Mad House
12. El Kid – Kachinja
13. Lanark Artefax – Touch Absence (Intimidating Stillness Mix)
14. Randomer – Juju
15. Rebolledo – WANT (Danny Daze & Shokh´s Fears Come Dub)
16. DJ Normal 4 feat. F.B. Wibe – Hu Strike
17. Karma – Cha
18. Ghost Culture – Perseus
19. Fetnat – Marbrahh
20. Solitary Dancer – Birth of Saturn
21. Bartellow – Amnesia
22. D.H.S. – Fascinating