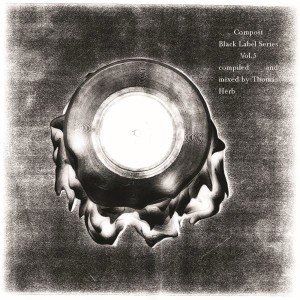 It's about time for the fifth installment of the Compost Black Label Series unveiling some of the finest cuts in the label's recent history in a versatile DJ mix crafted by Compost family member Thomas Herb, who built a strong reputation as a DJ when it's about merging soul-injected house, techno and disco into a musical journey.
Featuring winner tunes and remixes by Phreek Plus One, Osunlade, Woolfy, DJ T. or Rainer Truby, Herb is also highlighting the work of new breed like Emil Seidel, Philipp Stoya and Emilie Nana, who all contributed high-quality tunes on the Black Label within the last year. Playing on top of the game since about one and a half decades, the Bob Beaman resident DJ, holding a steadily growing national and international schedule, is kicking things off with some proper nu-school vibes until he smoothly blends to Balearic and disco influenced territories – then somehow he's already in the middle of Holland Tunnel, the New Jersey styled tune by Muallem, opening our minds eye for the glittering skyline of Manhattan and our ears for this music called house – unfolding its purest grooves and energy within the mix. Keeping up the level, Thomas Herb subsequently heading the ship towards a middle west inspired direction, throwing in some decent rave signals without loosing his fluent, elegant style he carefully morphs into a old school Chicago vibe! The set is closing with Lukas Bohlender's beautiful string laden emo-houser Club Chateâu.
Apart from storytelling, quality and programming the tunes itself, Thomas Herb unmistakably put some extra focus on adding this kind of warm, handcrafted, dynamic live-vibe – and he succeeds big time with this sophisticated little bastard of a DJ-mix. With Compost Records head honcho Michael Reinboth, Thomas Herb co-hosted the Compost Black Label Sessions club nights held at Harry Klein and later at Bob Beaman for the last four years – sharing the decks with the likes of Jerome Sydenham, Deetron, Jay Shepheard, Osunlade, Agnés, John Talabot, Willie Graff, Kalabrese, Karizma, Heidi, Permanent Vacation, Move D & Thomas Meinecke, DJ T., Nuno Dos Santos and many more. With SHOW-B he's teaming up for some well received productions and remixes from time to time – these smart guys also hosting the weekly radioshow Compost Black Label Sessions, which has been set up in order to spread the vibe of the label and correspondent club night to a wider audience.

TRACKLISTING
1. Rey & Kjavik – Listen
2. Joash – Don't Fear It, Fight It (Woolfy Addiction Remix)
3. Phreek Plus One feat. Mr. White – Passion (DJ T. Remix)
4. Emilie Nana – Like You
5. Johnwaynes – Dance
6. Muallem – Holland Tunnel
7. TJ Kong & Nuno Dos Santos – Emerald Bay (Scope Remix – Nuno Dos Santos Beat Edit)
8. Marbert Rocel – Let's Take Off (Osunlade Yoruba Soul Instrumental)
9. Show-B & Thomas Herb – Paradisus (Grooveapella)
10. Show-B & Thomas Herb – Rosso Costiera
11. Rainer Trueby – Welcome To Our World (Dima Studitzky Remix)
12. Classic VIV & Lawaetz – This Is For The Women (Show-B & Thomas Herb Remix)
13. Philipp Stoya – Ransd
14. Emil Seidel – Tumbling
15. Jay Shepheard – Otter Bronze
16. Lukas Bohlender – Club Chateâu