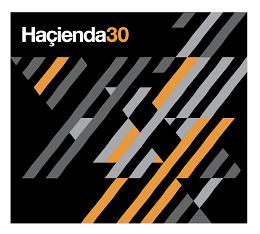 The Hacienda (or FAC 51) celebrate three decades of pioneering dance music with the triple CD Hacienda 30, mixed by original DJ's Graeme Park, Mike Pickering & Peter Hook.
To celebrate the 30th birthday of the Manchester super club which came to define club culture across the world, New State and FAC 51 The Hacienda are set to release a bespoke triple CD Hacienda 30 compilation which sees the original DJ duo Park & Pickering who provided the soundtrack to the club's heyday join original club owner and New Order / Joy Division member Peter Hook in supplying sets for the release.
The three CD package pulls out many long confirmed Hacienda classics and some of the lesser known but equally loved tracks which came to rock FAC 51 to its very foundations. The club's original resident DJ Mike Pickering takes to his box to pull out his very best selection of the American and British records that came to typify The Hacienda's sound. Mike's musical partner in crime, Graeme Park also delves into his extensive musical knowledge and mixing prowess to weave a seamless mix of the finest house and garage remixes while New Order and Joy Division's Peter Hook puts together a set that encompasses both Manchester and Hacienda but above all dancefloor classics.
Tracklisting
CD1 – Graeme Park
01. Darlene Lewis – Let The Music (Lift You Up) (Reese Inner City Club Mix)
02. Inner City – Share My Life (Graeme Park Vocal Mix)
03. Shawn Christopher – Make My Love (Stonebridge Main Mix)
04. Suzi Carr – All Over Me (Doc & Baron Club Mix)
05. Kim Beacham – True Love
06. Solution – Feels So Right (Original Victor Simonelli Mix)
07. Lil' Mo' Yin Yang – Reach (Kenny Dope Remix)
08. Loni Clark – Rushing
09. Murk – If You Really Love Someone (Original Mix)
10. Love Tribe – Stand Up (Narcotic Mix)
11. MK – Burning (MK Extended Mix)
12. The Reese Project – Colour Of Love
13. The Sound Factory – Cuban Gigolo
14. Landlord – I Like It (Blow Out Dub)
15. Masters At Work ft. India – I Can't Get No Sleep (MK Dub Mix)
16. The Untouchables – "Lil" Louie's Anthem
17. De-Lite ft. Osca Child – Wild Times (Mayday Mix)
18. Cut The Q – Who Need A Love Like That (Graeme Park & John Crossley Groove Remix)
19. Seduction – (You're My One And Only) True Love (New York House Mix)
CD2 – Mike Pickering
01. Sweet Exorcist – Testone
02. Nitro DeLuxe – Brutal House
03. Reese & Santonio – The Sound
04. Arnold Jarvis – Take Some Time Out
05. Jamie Principle – Baby Want's To Ride
06. Circuit ft. Koffi – Shelter Me
07. Hashim – Al-Naafyish (The Soul)
08. Orange Lemon – Dreams Of Santa Anna
09. T Coy – Carino
10. The Minutemen – Bingo Bongo (Loop)
11. The Fog – Been A Long Time
12. Rio Rhythm Band – Carnival De Casa
13. Black Riot – A Day In The Life
14. Phase II – Reachin'
15. Robert Owens – I'll Be Your Friend
16. Sterling Void – Runaway Girl (Pimp Dub Mix)
17. George Morel ft. Shadii – I Found It (The Dub Mix)
18. X-Press 2 -Muzik Xpress
19. The Reese Project – Direct Me (Joey Negro Remix)
20. S.O.U.L. S.Y.S.T.E.M. – It's Gone Be A Lovely Day (The Palladium House Anthem)
Release Date: 9th October