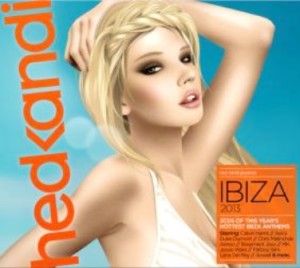 Return to the mystical white isle with Hed Kandi Ibiza 2013 as the party season is upon us once more and the young, trendy and music obsessed prepare to pack their suitcases and head to the most enchanting party island in the world.
Last year's album went silver, selling over 50,000 copies in the UK alone and 2013 sees Hed Kandi Ibiza return to entice you once more into a realm where hedonistic partying holds sway. With dance music's prominent takeover of the charts still ever expanding, Hed Kandi Ibiza 2013 includes all the hottest upfront Ibiza sounds, big room house anthems and afterparty deep house beats.
Taking the reins this year are our very own resident DJs, Sarah Louise, Dan Van and Sam Cannon who have masterfully curated this three disc collection of Ibiza anthems. Featuring the number 1 chart topper form Duke Dumont – 'Need U (100%)' and the number 1 smash hit 'I Could Be The' One from Avicii & Nicky Romero as well as headline acts Calvin Harris, Lana Del Rey, Chris Malinchak, Axwell, MK, Jessie Ware, Basement Jaxx, Fatboy Slim.

Tracklisting
CD1
1. Avicii Vs. Nicky Romero – I Could Be The One (Nicktim Original Mix)
2. Calvin Harris Feat. Florence Welch – Sweet Nothing (Radio Edit)
3. Lana Del Rey Summertime – Sadness (Cedric Gervais Remix)
4. Mat Zo & Porter Robinson – Easy (Original)
5. OneRepublic & Alesso – If I Lose Myself (Alesso vs OneRepublic)
6. Eric Prydz & Andreas Postl – Mighty Love (Instrumental)
7. Mark Knight – Your Love (Original Club Mix)
8. Dirty South Feat. Joe Gil – Your Heart (Michael Brun Remix)
9. Adam K & Soha – Lost In Orbit (Original Mix)
10. Chris B, Ben Santiago & The Lovely Laura – Patience (Original Mix)
11. Freemasons – Dirty Organ (Club Mix)
12. Nicky Romero Feat. John Christian & Nilson Still The Same Man (Original Club Mix)
13. EDX – Blessed (Original Club Mix)
14. Bloc Party – Truth (Digitalism Remix)
15. Discopolis – Falling (Commited to Sparkle Motion) (Axwell Radio Edit)
CD2
1. Fatboy Slim – Praise You (Maribou State Remix)
2. Duke Dumont Feat. A*M*E – Need U (100%) (Original Mix)
3. Ghosts Of Venice Feat. Josh Jakq – My Love (Original Mix)
4. J Paul Getto – Love Today (Joey Negro Original Vibe Edit)
5. Boris Dlugosch Feat. Roisin Murphy – Never Enough (Jesse Rose Remix)
6. Tune Brothers & Dacia Bridges – I Begin To Wonder (Alex Kenji Organic Disco Remix)
7. Tom Forester Feat. Syntheticsax – Saxy Summer (Original Mix)
8. Nathan Cozzetto & Adam Castleton – The High Life (Original Mix)
9. Alex Kenji Feat. Stefani Scovolo – Addicted (Vocal Mix)
10. Inaya Day Vs Matt Joko – Wanna Be
11. The Golden Boy – Gonna Do
12. My Digital Enemy – Nothing To Take (Original Club Mix)
13. The Shapeshifters – No Need No Body (Original Mix)
14. Ridney & Inaya Day Like You (Extended Mix)
15. Francesco Rossi – Paper Aeroplane (UK Radio Edit)
CD3
1. HAIM – Falling (Duke Dumont Remix)
2. Chris Malinchak – So Good To Me (Original Mix)
3. Gorgon City Feat. Clean Bandit – Intentions
4. Basement Jaxx – Back 2 The Wild (Gorgon City Remix)
5. Storm Queen – Look Right Through (MK Dub III)
6. Forget Me Not Feat. The Get Along Gang – Bassline (Original Mix)
7. Just Kiddin' – Time, Space & Honey
8. Electronic Youth Feat. Alex Hart – Wish I Didn't Miss You (Electronic Youth Dub)
9. Gabrielle Aplin – Please Don't Say You Love Me (Cyril Hahn Remix)
10. FCL – It's You (MK Mix)
11. Dusky – Nobody Else
12. Joey Negro Feat. Thelma Houston – I Need Somebody Tonight (Audiowhores Remix)
13. Louie Fresco – New Hateration (MK Remix)
14. Simone Vitullo Feat. Lady Vale – Passionately
15. Jessie Ware – Imagine It Was Us