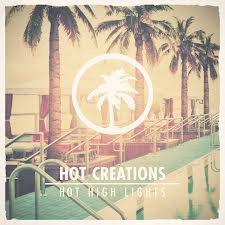 Hot Creations, the hottest electronic dance label right now who have two sold out showcases at Brixton Academy in April, celebrate three years of dancefloor dominance with a compilation of the label's highlights.
It's been a momentous few years for Jamie Jones and Lee Foss' label; the 24-track release takes you on a journey of the story so far. It features the Hot Creation family's finest offerings and includes a Russ Yallop Hot Creations early years mix. A veritable feast of beats and basslines!
Jamie Jones, one of the owners and artists behind the label was voted No1 DJ in the world 2012 by a Resident Advisor Poll and Miguel Campbell's Something Special was one of the biggest selling independent dance singles of 2011.
2013 is set to be a big year for the label with albums by Hot Natured, Digitaria and the launch of a DJ mix series.
Tracklisting: 
CD1
01 Lee Foss & MK feat. Anabel Englund – Electricity
02 Funky Fat & Digitaria – You Bring Me Down
03 Miguel Campbell – Something Special
04 Waifs & Strays – Body Shiver (Hot Natured Remix)
05 Infinity Ink – Games
06 Lee Foss – U Got Me
07 Hunter/Game – Don't Feel The Presence
08 HNQO – Point Of View
09 Miguel Campbell – Rockin' Beats
10 Alexis Raphael – Into The Light
11 Denney – Ultraviolet
12 Lee Foss – Keep My Cool
13 Miguel Campbell – Not That Kinda Girl
CD2
01 Jamie Jones – Ruckus
02 Robert James – Sleep Moods
03 PBR Streetgang – Downstroke
04 Freaks – Black Shoes White Socks
05 Danny Daze feat. Louisahh – Your Everything
06 Wildkats & Russ Yallop – System Crank
07 wAFF – Jo Jonson
08 Bubba – Dance With Me
09 Jesse Perez – Jeese Don't Sport No Jerry Curl
10 Burnski & Robert James – Malibu
11 Digitaria – Paradise (Digitaria Club Mix)
CD3 Russ Yallop's Hot Creations Early Years Mix
01 Intro
02 Clockwork – It's You Again
03 Henry, Jones & Arnout – Ability
04 Pteradactil Disco – Clive's Alright
05 Miguel Campbell – Baby I Got It
06 De Signer – Suicide Girl (Robin Porter & Subb-an Remix)
07 Robert James – Connected
08 Jamie Jones – Say What?
09 Hot Natured feat. Ali Love – Forward Motion
10 Lee Foss – Chic Sheik
11 Robert James & Burnski – Malibu (Jamie Jones Music Night Remix)
12 Beep Dee – Colorado
13 Danny Daze feat. Louisahhh – Your Everything
14 Russ Yallop & Taymor Zadeh – U Know
15 Jamie Jones – Ruckus
16 Lee Foss – Keep My Cool
Release Date: 15th March