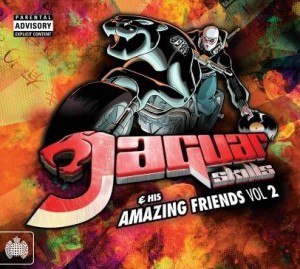 The King of Mashup's is back with his 2nd action packed album released through Ministry of Sound. Featuring a wicked twist to his general bass heavy mashups, the 2nd installation has once again been cleverly crafted, on this occasion taking inspiration from the current house scene, as well as the iconic drum and bass beats he is known for.
With a monthly sold out residency at London's KOKO, this album is being released in perfect time for Jags' massive festival tour for the summer, appearing on festival line ups such as Isle of Wight Festival, We Are Fstvl, Creamfields, Electric Daisy Carnival, Bestival and more. With an intense summer tour under his belt there is no denying that Jaguar Skills is back and firing on all cylinders.
Skilfully cutting together 40 current dance, house, drum and bass and post dubstep tracks, including a brand new never before Jaguar Skills production 'Hamburger', Jags' has managed to weave together a brilliant mix for his extraordinary fanbase and dance music consumers.
From the dirty Drum & Bass of Noisia, Sub Focus and Breakage; the sleek deep house of Layo & Bushwaka! and Aeroplane; the deadly Dubstep vibrations of Modestep and Dirtyphonics; the electro rhythms of Jacques Lu Cont and Fake Blood; the trilling Trap of DECiBAL and the Hip Hop flavours of DJ Yoda – Jaguar Skills has delivered a masterful mash up of sounds that quite simply no other DJ can deliver.
The moshpit magician has once again conjured up a special compilation and delivered his finest piece of work to date.
TRACKLISTING
1. ''I HIT IT ALONE''
The Dirty Feel Get Down
Dirtyphonics Feat. Modestep – Los Angeles
2. ''DANGEROUS JAG (PART 3)''
Danny Byrd Feat. Jaguar Skills BANG!
3. 'OLD SCHOOL, RUDEBOY, RUFFNECK, SOLDIER''
Friction & Skream Feat. Scrufizzer, P Money & Riko Dan Kingpin (Calyx & Teebee Remix)
DJ Yoda Feat. M.O.P. – Scream
Wretch 32 – Pop? (Fake Blood Remix)
Bart B More – Jack
4. ''NO FUCKING ABOUT''
Danny Bird Feat. Roni Size – Grit
Mark Knight Feat. Skin – Nothing Matters (Noisia Remix)
5. ''GO GO JAG!''
Large Professor – Key To The City
6. 'GET SOME UGH''
Induceve – Time To Begin
Puente & Rosch – This Feeling
7. ''HAMBURGER''
Jaguar Skills – Hamburger
8. 'SHIBUYA IS ALL I NEED''
Lady Bee Feat. Grace Regine – Sweet Like Chocolate
Squarehead – Elegante
9. ''F.U. SKILLS''
Dirtyphonics – Walk In The Fire
Audio & Insideinfo – Vein Drain
10. ''ROCK GOLD CHAINS''
TC – Do You Rock VIP
DECiBLE – Wot
Pixel Fist – Let Yourself Go
11. 'DON'T TELL ME ABOUT BASS''
Sub Focus – Let The Story Begin
Hoi! – Bronx 808
Scrufizzer – Rap Rave (Acapella)
12. 'SHIT ALL NIGHT''
Tracques – Click Track
Beltek – Eric Goes To Disco
Mason -Bass Friend (Elektropusher Remix)
13. ''BOTTLE BLOWER''
Riton – Bang Your Head
Rene LaVice – Not Deep
14. ''SOAP-LAND''
Brookes Brothers – Loveline
Koven -More Than You (DC Break Remix)
15. ''EASY JET''
Wilkinson Feat. Iman – Need To know
The White Lamp – It's You Ron (Ron Basejam Remix)
16. ''DELIVERY HEALTH''
Breakage – The Promise
Layo & Bushwacka – Love Story
17. 'INCREDIBLE JAGUAR''
Mampi Swift – Gangster
Hamilton – Soundboy VIP
Danny Byrd Feat. General Levy – Blaze The Fire (Rah!)
18. ''BACK TO THE HIDEOUT''
Sebastian – Embody
Aeroplane Feat. Jamie Principle – In Her Eyes