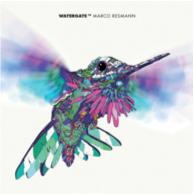 A mere 9 years old, Watergate has steadfastly become one of the world's most prominent electronic music institutions. This is due in no small part to its heady combination of picturesque location – its dancefloors face directly out onto the river Spree – a wall-to-wall LED light installation and its impeccable music policy, with the cream of the electronic crop passing through its doors every week.
The mix CD series, now in its tenth incarnation, is a further means for the club to stamp its seal onto the scene, with many of the club's residents and regular talents having been invited to contribute.
Previous artists have included the likes of Tiefschwarz, Ellen Allien, Sascha Funke and dOP, amongst others. This time round, longtime resident and Upon.You label boss Marco Resmann takes up the mantle and demonstrates how his unique tastes influence the Watergate sound.
Marco Resmann first started out as the third man in Pan-Pot, these days a duo, and also as Anja Schneider's producer, thus being integral to the early development of the Mobilee sound. Whilst also producing under the pseudonym Phage, he won critical acclaim as half of Luna City Express.
Busy has he may be, he's still found time to effortlessly demonstrate why he's been around this long, over 22 tracks of masterfully mixed house burners. Bookending the mix are some small audio snippets devised by him but the meat is supplied by classics like Ricardo Villalobos' '808 The Bass Queen' and Soulphiction's 'I've Got A Feeling', his own exclusive collaborations with Kiki and Mike Shannon plus more by Guillaume & The Coutu Dumonts, Anonym and other friends of Marco Resmann and the extended Watergate family.
Tracklisting:
1. Marco Resmann – Hello Watergate (Intro)
2. SoulPhiction – I've Got A Feelin'
Minilogue – Orglar
Douglas Greed feat. Delhia de France – Sense (Exclusive A Cappella) –
3. Ricardo Villalobos – 808 The Bass Queen
4. Heartz 4 – Intimacy Girl
5. Serafin – Starship Discothèque
6. Digitaline feat. Tigerlily – Say So
7. Håkan Lidbo – Televinken
Sierra Sam feat. Abel – Around You
8. André Lodemann – Where Are You Now
9. Left – Please Don't Come Alone
10. Darabi – Top Drop (Roman Flügel rmx)
11. Jichael Mackson – GTI (Zimbabwe Mix)
Luna City Express feat. Roland Clark – The Next Level (Exclusive Breakapella)
12. Samu.l – Balance Elon – Clap Back
13. Kollektiv Turmstrasse – Heimat (Robag's Turmkolle Rekksmow)
14. Anonym – Go Deeper (Kenny Larkin Remix)
15. Death On The Balcony – We Are Time And Space (Robert James Remix)
16. Alessio Mereu – Epidemy (Pär Grindvik Great Deep Love Rework)
Marco Resmann – Little B-Boy
17. App – All I Can Think About
Marco Resmann feat. Soucie Six – This Song (Exclusive Chordapella)
18. Afrilounge – MayaXpression
Marco Resmann feat. Mz Sunday Luv – I Will Love (Exclusive Synthapella)
Phil Weeks – All Day Every Day (A Cappella)
19. Deetron – Collide
20. Marco Resmann & Mike Shannon – The Road To Guaruja
21. Marco Resmann & Kiki feat. Cari Golden – Begging For The Heat
22. Roberto Rodriguez – I Keep Thinking Of You
23. Guillaume & The Coutu Dumont – Ubiquitous Gaze (Stringapella)
24. Marco Resmann – Goodbye Watergate (Outro)
Release Date: 24 February 2012