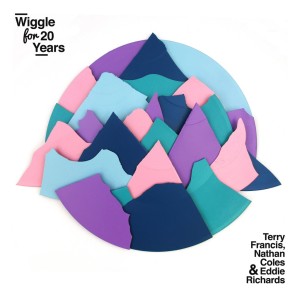 To celebrate 20 years of dance music, UK institution Wiggle will release a compilation, , 'Wiggle for 20 years' ,which features productions from some of the regular guests that have graced the famed club night.
Wiggle doubles as both a house and techno record label and labels itself as a free spirited unpretentious party brand. Known for their uncompromising events for over two decades now, the trio behind Wiggle, Terry Francis, Nathan Coles and Eddie Richards, have helped pioneer techno and a deeper tinged house in the UK.
Wiggle celebrated their 20 year anniversary in style with a huge show recently in a London warehouse space that featured their residents plus guests, and they also had a special showcase at famed club fabric in September. For the coinciding compilation the Wiggle crew have put together a fitting 20 track mix which features new and exclusive tracks from artists and regular Wiggle guests such as  Alex Arnout, Saytek and Dachshund, as well as house luminaries like D'Julz and Just Be (Bushwacka!) amongst many others.
'Wiggle for 20 years' is out on September 26th through Wiggle.
Tracklist:
01. Alex Arnout feat. Tempo O'Neil – Several Ways
02. James Kameran – Ai Weiwei
03. Lo – Waste Of Space
04. D'Julz – Give Me Your Hand
05. Corrie – Doing My Dance
06. Kenny Raw – Distorted Reality (Darren Roach Remix)
07. Pure Science – Don't Hold Back
08. Saytek – Two Words
09. Dachshund – Quiproquo
10. Just Be – My New Girlfriend
11. Lorenzo Blender – Subboom
12. Dub Taylor – Chasing Jean-Claude
13. DZNB – Adult Friend Finder
14. Todd Bodine – Symphony Of Truth Project
15. Bravofox – Bludine Paler
16. Berkson & What – Psychedelic Underground (RM Mix)
17. Asadinho feat. Effluence – Turn, Turn, Turn
18. Philipp Ort – Like That
19. Gideon Jackson & Daniel Poli – Ghost Dancing
20. Jay Tripwire & Joeski – Entranced