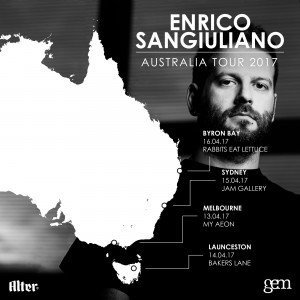 Enrico Sangiuliano experienced the sort of rise that will serve as inspiration for many a bedroom producer out there. Well known in his native Italy as a class DJ, Sangiuliano played his local circuit for 10 years before the world took notice.
After building on his production skills and developing his own sound, the Italian began getting signed to some of the world's top techno labels including Truesoul, Herzblut and Gem Records, but it wasn't until 2015 that he gained traction on an international scale. His breakthrough track, a remix of DJ Boris' 'Can You Hear Me', sat at #1 on Beatport's techno chart for a staggering 14 weeks. Backing it up time and time again, the techno mastermind has almost spent more time in the charts than he has out of them. In 2015 Enrico sat at #8 for the world's best selling techno artist, a list he then bettered in 2016 where he claimed the #1 spot.
More recently he was asked to remix the Moby classic 'Why Does My Heart Feel So Bad', and in typical Sangiuliano-style, he delivered an absolute belter. Fast forward to today, and after taking a four-month break from production, Enrico has recently returned back to the studio. Ahead of his upcoming Australian tour, he's told Balance that there is plenty of new music on it's way, some of which can be found in this Balance Selections podcast. This mix is an hour slice from a set earlier in March at the huge Rotterdam Rave in Massilo, Rotterdam (where he shared the bill with acts like Alan Fitzpatrick, Dave Clarke, Joris Voorn and more). Be ready. This one goes off like a bomb from the get go….
Balance Selections Q+A
Name:
Enrico Sangiuliano
Location:
Milan, Italy
Facebook:
https://www.facebook.com/enricosangiuliano
Soundcloud:
https://soundcloud.com/enrico-sangiuliano
Alias/Producer name:
Enrico Sangiuliano
Labels affiliated with:
Drumcode / Gem Records
My last 3 releases:
What music did you listen too as a child?
Neither of my parents were musicians, so during my childhood I was like any other child at school with friends, playing sports, having fun. My friend Manuel and I always used to make instruments from the most ordinary everyday objects – the benches at school, and my mums cooking utensils! We liked the different sounds and weird jams we could make together.
As a teenager you start to hang out and do other things with your friends on the weekends, it's also the age where you can choose what you do in your spare time. It was then that I was drawn to techno, trance and hardcore music. Then of course this lead me to going out and partying on the weekends, then to playing at the illegal raves, and after a lot of work on producing and playing in my home country, to where I am today! Where did the time go?
When was the first time that you realised that you liked electronic music?
When I heard Daft Punk's "Rollin & Scratchin" for the first time back in 1997. It was such a simple track, but instantly I wanted more, it was definitely a turning point for me in my musical direction.
When was the first time you saw a DJ in a club?
I went to a lot of the illegal raves in Italy many years ago, at first that's how I experienced club life. Then things changed after a few years when I started playing at events. They remain some of my favourites parties I have ever been to, the secrecy of a rave and because you know it shouldn't be taking place makes it all exciting.
As for clubs, there are so many amazing venues in Italy alone that I went to for many years when I was starting out. The one memory that really stands out for me was at Plasma Phobia, which was a techno event in Northern Italy, it was such a popular event. The DJ was Gabry Fasano! As for what he was playing, I cannot remember exact tracks, but it was an amazing set and was a starting point for attending a lot more events in Italy for a decade.
Which producers/artists/acts inspire you?
There are a few different people who have really inspired me. Adam Beyer of course is an artist who has had so much success in the industry and with Drumcode being the huge success it is today, he really is an inspiration for many. Trentemøller is another artist who is up there for me, because of his unreal production skills. When it comes to amazing live sets, then I have to say Kink. As far as my own inspiration, I can take this from anything – everyday life, experiences, travel and emotions. It's always been there, and it's part of me when it comes to making music.
What was the last album that you downloaded/bought?
Just last year I was sent a promo email for the new Dubspeeka album "Population 50201" on Skeleton Recordings. It was really amazing, it's one of the best productions of the year as far as I am concerned. I still play it regularly, and simply cannot choose one track as a favourite. Check it out of you haven't already!
What is your current production and DJ set up like?
I'm a nomad producer at the moment. I use Ableton and Logic as DAW's and lots of software plugins like Massive and Sylenth1. I also use some random hardware which I've found and collected from studios I have produced in all over the world, but I mainly use Roland and Korg synths. For mixing and mastering I use Brainworx, Izotope and UAD stuff. My DJ setup at the club is usually three decks, Allen&Heath Xone92, Boss RV-6 and DD-7 pedals.
What releases do you have on the horizon?
As you know, my last release was the Moby remix on Drumcode back in November. It was a really busy year for me producing and I haven't put out a track since. I have spent a lot of time in the studio over the winter period between gigs and I've been working on some really exciting new tracks. Some of them you may hear in my sets and also maybe some sneak peaks of other DJs dropping them. But – these are all currently still a secret and not yet ready to announce! One track that will be out soon is called "Astral Projection", it's already been getting some love on the dancefloor, so watch out for more info soon!
Where can we hear you perform?
Always keep an eye on my Soundcloud for anything new, as I like to share all the mixes we have coming out. The next few months are going to be really busy – first up we have my tour in Australia in April. Dates are in Sydney, Melbourne, Byron Bay and more. My last tour in 2015 was awesome, so happy to be going back. I have some big festivals too, with Loveland Live in Amsterdam, May Day in Germany, Awakenings in June and also the massive Electric Zoo at Awakenings in Brazil very soon! Country wise I'll be in Ireland, Scotland, Italy, Romania and Germany between all those shows!
Tell us more about the podcast you made for Balance?
This is actually an exclusive live set for you guys from an absolutely insane party I played a couple of weeks back called Rotterdam Rave. The crowd went nuts for a lot of the tracks! This is a one-hour special recording from my set, so hope you guys love it as much as the crowd did on the night. It's got a lot of new productions in it and includes as mentioned earlier my new track "Astral Projection".
My Recommendations
The top track in my DJ wallet currently is:
The Persuader – 'The Kosmos' – (Unreleased – so no link available for this one!)
If I could recommend only one of my tracks for you to listen to it would be:
If I could recommend only one track for you to listen to it would be:
My favourite Balance compilation is:
Patrice Bäumel
The last movie I watched that I really liked:
Leonardo DiCaprio's "Before The Flood"
My favourite TV show:
I turned off the TV 6 years ago, so I am not a fan and never was.
If I could choose anyone to compile a Balance comp it would be:
Stephan Bodzin
Tracklist
01 Matt Sassari – Relax
02 Boris – Get Some
03 Skober – Phuture Lead
04 Adam Beyer Vs Pig&Dan – In Love
05 D-Deck – Dabiah
06 Loco & Jam – Fire In The Madhouse
07 Lutzenkirchen – SemperFI (Konrad (Italy) Remix)
08 Enrico Sangiuliano – Astral Projection
09 Charlotte de Witte – Lost
10 Frazier – Blind Spot
11 Mikael Jonasson – CX
12 Egbert – Elektriciteit
13 Gregor Tresher – Lost Satellite
14 Patrik Carrera – Vacant
15 Mees Salomé – Forest Fire (Reinier Zonneveld's Filth on Acid Remix)