For the next edition of Balance Selections we head down to Spain for some techno action from Marc Dosem aka Dosem. For over 5 years now Dosem has been dropping big room techno bombs on labels such as SINO, Carl Cox's Intec Recordings, Tronic, Break New Soil, Chameleon and more. To be fair, simply stating that Dosem produces big room techno is doing the producer bit of an injustice – he applies a futuristic "Soul Techno & Hi-Tech Funk" approach to his productions which definitely gives his productions a unique sheen that he can call his own. Releases such as his Bedrock single 'Trust' and his Tronic EP 'From The Edge' demonstrate this characteristic further and have garnered him wide support across the electronic spectrum from DJs such as Sasha, Carl Cox, John Digweed, Joris Voorn and Laurent Garnier.
The trajectory behind Dosem's exponential rise first occurred when he signed to Technasia's label Sino in 2008 with his eloquently carved club hit 'Silent Drop' (2009). From here his profile flourished and following a re-release of the already cosmic classic 'Beach Kisses' on Green, he soon had material on imprints like Dig Deeper and Suara. However, the true marker to Dosem's potential came in 2011 when he unveiled, to critical acclaim, his debut album 'Parallel'. What followed was a string of sonic releases that included his 'Origin' EP on Christian Smith's Tronic imprint, remixes for artists such Gregor Tresher, Max Cooper, Alexander Kowalski and Henry Saiz plus the immersive 'Believe' EP on his own label Soundfate.
His global reach as a producer has given rise to his profile as a DJ and seen him become an initiated member of some of the most renowned parties in the world. Today his name can be found on billings for clubs and festivals around the world that include Berghain, Space Ibiza, Fabrik, Ministry of Sound, Ushuaia, Pacha, Rex Club, Fuse, Awakenings, Klubbers Day and Monegros Desert Festival.
=================================================================================
Name:
Marc Dosem
Location:
Girona

Alias/Producer name:
Dosem

Labels affiliated with:
Intec, Tronic, Suara
My last 3 releases:
What music did you listen too as a child?
I got into electronic music listening to scores of science fiction movies like Tron or Blade Runner. Vangelis was one of my earliest influences and aroused my interest in synthesizers and electronic music, but I wasn't aware of it yet. My father had a lot of vinyl with all those soundtracks hidden in a closet. A lot of other composers also influenced me like John Williams, James Horner… besides that I grew up in the 80's so obviously a lot of music of that era was part of my childhood: Michael Jackson, Depeche Mode, Jean Michel Jarre, Madonna, New Order, Pet Shop Boys, U2, Eurythmics… the list is endless.
When was the first time that you realized that you liked electronic music?
It was the late 90's when I first heard bands like Orbital, Prodigy, Underworld, Chemical Brothers… I remember it was a big shock to me, all those big pads and synths mixed with powerful beats. I could listen to all the styles fused together, it sounded urban and futuristic at the same time. Big Beat and Rave music from that era was my gateway to the club music.

When was the first time you saw a DJ in a club?
I think the first time I remember paying attention to a Dj was probably in a club from Platja d'Aro, a coast village near of my hometown Girona. It's a classic place in my area where young people go to party, specially at summer. I remember the Dj was doing crazy mashups mixing acid house, UK garage, eurodance, breakbeat… with mainstream pop/R&B music. All with only two vinyl turntables and a mixer. I was watching his hands moving, the spinning vinyls, all that sounds accurately mixed and the people dancing… was something new and inspiring for me.
Which producers/artists/acts inspire you?
To be honest, after my beginnings with the Big Beat and 90's trance music my biggest influences were localized in the beginning of 2000. All the music coming from Kanzleramt music label, especially Alexander Kowalski. Joris Voorn's Future History album released on SINO was also one of my favourites. My third favourite producer at that time was Luomo, his albums Vocal City and Present Lover gave me a new perspective of house music, sensual but futuristic at the same time.
What was the last album that you downloaded/bought?
I like to listen all kinds of electronic music, these are my latest favorite albums: Personality by Scuba, Settle by Disclosure, II by Moderat and Thence by bRUNA.

What is your current production and DJ set up like?
In my studio I just have a computer full of software, a couple of Dynaudio monitors, RME soundcard, Virus TI Snow, Focusrite Liquidmix, Maschine… that's more than enough for me to do music. When I play DJ sets I do 3 Cdjs and a mixer. For the Live Pa I do a Pioneer DJM900 connected thru USB to my laptop plus an extra Xone K2 midi controller. I also use a Pioneer RMX-1000 unit for Fx and drum samples.
What releases do you have on the horizon?
I just finished a new remix for Hot Since 82. I also signed new Ep's for Tronic and Suara and started a new album.
Where can we hear you perform?
I have a soundcloud profile where you can listen many of my latest productions and sets: https://soundcloud.com/dosem
Tell us more about the podcast you made for Balance?
I tried to make a selection of music I like playing and listening to at the moment, with different vibes and styles. Once the selection was done I just played it live in the studio with 3 decks and a mixer.

My Recommendations
The top track in my DJ wallet currently is:

If I could recommend only one of my tracks for you to listen to it would be:

If I could recommend only one track for you to listen to it would be:

My favourite Balance compilation is:

The last movie(s) I watched that I really liked:  

My favourite TV show:
Everything from Discovery Max channel

If I could choose anyone to compile a Balance comp it would be: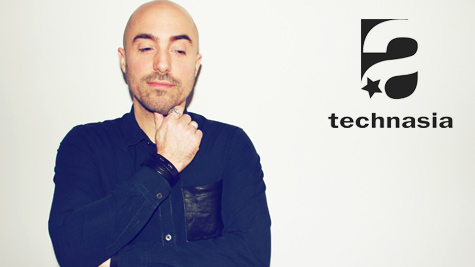 Tracklisting
Joel Alter – Midnight Run (Rik Elmont Remix) [Aura Karma Records] Anton Pieete – I Hold From You [Rejected] Dj Le Roi – I Wanna Go (A Lister Remix) [Muak Music] O&A – After Dark (Club Mix) [Magnetic Recordings] Andi Rivera – Do It (Steve Mac Remix) [Deep 8 Recordings] Py – Polyethers (Jimmy Edgar Remix) [Champion Records] Joe Brunning – Love Story [Bush] Oud!N13 – Higgs Singlet (Taho Remix) [Lumina] Dosem – Become One [Tronic] Gingy, Bordello – All Day [Turbo] Cdbl – That Trick [Sounds of Sumo] Floorplan – Eclipse [M-Plant] Blakkat, Manuel Tur – Maybe Next Lifetime (King Britt Dub) [Freerange] Die Roh – Look Out (Tessela Remix) [Vae Victus] Hot Since 82 – Knee Deep in Louise (Shadow Child Remix – Dosem Edit) [Moda Black] Roger Sanchez – My Roots (Technasia Remix) [Stealth] Iron Galaxy – Giving You [Born Electric]