If you ask any house/techno promoter in Australia worth their salt to put together a lineup of the country's best credible and underground DJ's, you can bet on it that Melbourne's Mike Callander will top that list. He is the man for any occasion, be it warming up for an international, taking the event home with a closing set, or even headlining the event, Callander is always technically proficient, never missing a beat. Cutting his teeth as a resident at the world famous, but now defunct, Honkytonks, he now resides at Australia's most infamous haunt Revolver, alongside regular guest bookings all over Melbourne, Sydney and beyond. But it's not just Australia where Callander has made a career; he is regularly invited internationally to play at global clubs such Rex Club in Paris and Berlin's Watergate. (Get Physical's DJ T personally invited him to play in Berlin for DJ T's 20 years of DJing anniversary event.)
On the production front Mike is known in Australia as an well-respected producer who has had solo releases signed to compilations mixed by David Seaman and Phil K, one full length album under his belt ('Antarctica'), and he also co-runs and founded the highly esteemed Haul Music label. Recently he released the first remix under his new Zero Percent banner (a project alongside The Presets' Kim Moyes) for indie act The Jezebels (the remix can also be found on this podcast). And to top it all off he also co-runs the School of Synthesis production school alongside international production veteran and legend, Davide Carbone.
We can go on and on as Mike Callander really is that decorated, but in the end it's all about the music so sit back and press play. We can't be more excited to have one of Australia's best (if not the best in our opinion) as our next guest…
Balance Selections Q+A
Name:
Mike Callander
Location:
Melbourne, Australia
Alias/Producer name:
Mike Callander

Labels affiliated with:
Haul Music / Power Station / Motorik

My last 3 releases:

– "Motorik XTCNRG001" – V/A vinyl with The Finger Prince, Vakula and Christian S – Motorik
– "Power Station 001" – V/A vinyl with Kris Baha, Disrute and Heavy Concern – Power Station
– "Zero Fucks Given" – EP with remixes by Paul Mac and D-Rex – Green Fetish
What music did you listen too as a child?
I grew up in a house full of people who loved music, but couldn't play any instruments. We had an electric organ sitting in the living room and the sheet music laid out on top of it, but most of the use it got was by me making long drone sounds to annoy the crap out of everyone else. From the very beginning I was totally fascinated by sound, so even though I never learned to play anything properly I was always the first to get hold of an instrument and start making noise.
We also had a bunch of old and new record players including a gramophone that had to be wound by hand to play 78s, and a hifi system that looked like a spaceship that had a graphic EQ, double tape deck and came with a microphone. On the new one my brother and sister would play eighties pop (Madonna, Rick Astley, Thomson Twins etc.) and rock records (every INXS album), and when they were away I'd break the rules and mess around with the tapes and microphone. I mostly recorded myself doing funny shit with my voice, and sometimes I'd record a song from the radio and make my own mix tapes. On the old gramophone (which still sits in my kitchen), my Dad would play a range of stuff from Honkytonk Piano to The Platters. I loved it all for different reasons, but I remember liking the old records because they clearly sounded old. The crackles and the distant sounding voices seemed familiar somehow.
I guess that sums up my musical experience and my current practice quite well. I didn't know it was happening at the time, but the records and the ability to transfer sound to tape we really important to me as a kid, and the "feel" of the sound was more interesting to me than the musical content. 
When was the first time that you realized that you liked electronic music?
The first album I remember loving more than the others was Paul's Boutique by The Beastie Boys (produced by The Dust Brothers). I loved it because I knew that so many sounds on it came from somewhere else. I didn't know it was called "sampling" but I knew that it excited me. As some point I tried to make my own tape that separated as many of the samples from that album as I could, so that I could try to use them and piece something together myself. It was a very primitive exercise by an 8 or 9 year old kid, but I gave it a lot of my time. I would love to find that tape somewhere with the samples and my voice all over it. So that's kinda electronic because of sampling, but the content sampled wasn't necessarily electronic.
A few years later I became fascinated by Guru Josh and his track Infinity, and it was quite a few years later again that I found myself enjoying tracks like Son Of A Gun and You Belong To Me by JX (who we now know as Rex The Dog!!!) on Saturday morning Video Hits. Around that time my brother also returned home from a living in the UK with a swag of these shiny "CDs" and a new hifi system to play them (we were late to the digital party because we were still winding up the gramophone). On that we'd listen to early Ministry of Sound mix compilations and Carl Cox's F.A.C.T. 1, followed a few years later by the life-changing F.A.C.T. 2.
When was the first time you saw a DJ in a club?
In 1996 and 1997 I went to so many raves I can't for the life of me figure out which was first and who was playing, but I can tell you that it in that short but inspiring period of time I saw Carl Cox, Jeff Mills and Luke Slater in the most incredible warehouse spaces. Melbourne was absolutely on fire for techno at that time, and Luke Slater in particular was rumoured to label it the "techno capital of the world". I don't know if that's true and I don't really know what was happening elsewhere, but I've rarely seen anything like it anywhere since. Most of this was happening at The Docklands (in the infamous Shed 14 and others), but there were also plenty of other huge venues being used at the time… indoor sports centres, concert venues, anything that could fit thousands of people was transformed for a night, filled with décor and sweaty bodies covered in fluoro and truly MASSIVE sound systems. I miss those days.
Which producers/artists/acts inspire you?
This will be nice and contentious for you… Kanye West. It's almost like an unspeakable curse to say his name, but no matter how much of a firecracker he can be and no matter how many stupid things he says in interviews, he still rewrites the script every time he hits the studio. If you look at the conceptual shift between his first three "hip hop" albums (College Dropout, Late Registration and Graduation) and to then release 808s and Heartbreak, which is like a teenager's diary or a love letter or something totally heartfelt and honest, could have been commercial suicide, and I think he took a massive hit on sales for that too.
But for then each subsequent album (especially My Beautiful Dark Twisted Fantasy and Yeezus) you are watching an artist totally transform his concepts, his production methods, his collaborators and his overall sound, while still sounding exactly like himself. Love it or hate it, but this is an artist at work. I love listening to everything he does. Often I hate it on the first listen, but then somehow it stays in the car and is played 100 times over. Even if he delivers a stupid statement, he is at the edge of his art form and he is not only absorbing some of the best music production around, but also spitting it back like it's normal for us to expect every artist album to be a total transformation.
I'm also a fan of Kendrick Lamar, but almost in an opposite manner. While everyone is praising him for this jazz-poetry-fusion style of To Pimp A Butterfly, I kinda want him to go back and do Good Kid M.A.A.D. City again, because that's the album that totally blew my mind. I think it was the brilliance of the earlier album that did most of the hard work in opening people up to what Kendrick had to say while still somehow existing inside the realm of regular hip hop, while the newer stuff is undoubtedly innovative and incredible, I don't really feel like listening to it… for me it left the map by such a distance that it makes me feel lost. In any case these are incredible achievements for an artist!
What was the last album that you downloaded/bought?
Dr. Dre's Compton. I was really disappointed. It just shows that ideas, rather than resources, are the core ingredient of any great work.
What is your current production and DJ set up like?
In the studio I have been on a gear acquisition rampage. I was so happy working with software for so long, but in the last years I have been exploring different outboard gear for my live shows, and there were some monumental discoveries that changed everything in the studio too. I bought my first Moog synthesizer, the Sub 37, and the enormous sound of this thing got me really interested in analogue in the way that everyone else was anyway (again I'm late to the party). Then another major shift happened when I hit the studio with Kim Moyes.
I was up in Sydney for a live show at the now defunct Spice, so the next day I dragged some of my gear into Kim's studio to jam for a few days. We had been working a bit on some drum machines and synths, trying to get a vibe happening, and then Kim turns on this big grey/black machine called an SP 1200 by E-mu. It's strange to think of how much I had loved sampling and yet didn't know what this was by reputation, but I knew for sure that I was desperate to get one when Kim started messing with a sample on it. It's impossible to explain the true sound of these machines without sounding like a total cliché, but you can't avoid using words like "fat", "warm" or "dirty", and this sound of old samplers has become a new obsession. Kim had two of these machines, so he sold me one, and I just bought an MPC3000 too because it's clear to me now that music-making is so much more fun if you can create a vibe with your hands, and if you can achieve that vibe really quickly because of the quirks and character of certain special machines.
What releases do you have on the horizon?
Kim and I just finished a remix for The Jezabels (which is on this mix), and we have a swag of originals that we'll put out sometime this year once they're completely finished, but we know that's close because I've been playing these out all over the place and the response from the dancefloor has been inspiring. I also just joined a band with T-Rek and Honeysmack and we are in the process of recording an album under the name Broken Acid Experiment.
Where can we hear you perform?
My weekly residency at Revolver continues every Friday night. I'm incredibly fortunate to play a long set every week at Australia's best-known club. I'm also up in Sydney quite regularly for S.A.S.H. on a Sunday night, which would have to be Australia's most rocking club night right now, which is an incredible achievement in light of what's happening up there with the lock-outs. Other than that I am still doing plenty of warm up slots for touring international DJs, the last few of note include Balance alumni Deetron and Kölsch. I'm taking a rest from solo live shows at the moment so that I can focus on finishing some music. It really slows me down a lot to tear the studio apart for a performance and then patch it back together to record, so the only live shows in the short term will be with the band, because we play without computers and I can roll in with a few synths and some effects.
Tell us more about the podcast you made for Balance?
This one came together quite unusually. Normally I decide at the beginning if I'll work entirely inside the box in Ableton Live or outside using CDJs and a mixer, and the decision is often based on timing and location. If I have time to record something from the club I'd prefer that, because it feels "real" and it's hard to get a vibe while staring at a wall in the studio, but in this case I did both. I had a lot of time to think about this, so I started out by auditioning tracks and expected to refine this list over the course of a few weeks. I created a "Balance" playlist in Rekordbox and just listening to the selection got me excited to mix, so I hit record and captured 90% of it on that first day. Then I listened to that a bunch of times and found that over and over a part of it was bothering me, so I cut that out and finished it off with some new tracks in Ableton Live. I'm glad it happened like this because it allowed me to capture some of my true mixing style, which unlike Ableton Live is raw and imprecise, but in my opinion more energetic, and then when it was important to switch out a couple of tracks to alter the feeling of the whole thing I could do that easily. I wanted this mix to capture a full spectrum of the house and techno that I play while retaining a smooth energetic flow in and out of the peak, and I'm super happy with the result.
In terms of standout tracks it's really gotta be The Jezabels "Pleasure Drive" (Zero Percent Remix). Zero Percent is the name Kim and I have chosen for our collaborations, and this is the first thing we finished. It was a pleasure to be invited by The Jezabels to remix their fantastic song, and I feel like we've taken it to an entirely new audience. It's been really interesting for me as a DJ to watch the progression of how the audience responds to this track too… when I started playing an early version in the clubs it was really the bassline (which we created with my new/old SP 1200) that had everyone whistling, but since The Jezabels album had so much coverage on Triple J (Australian national radio) it's now pulling bigger shouts and whistles when people hear the vocal. I've never really enjoyed this level of familiarity from a dancefloor for something I worked on, so it's a real treat to play my work and expect a genuinely hot reaction. It's also a bloody treat to work with Kim! I have been a huge fan of The Presets and Kim's solo productions for a decade (have a listen to the beautiful closing track on this mix), and it's an honour to hit the studio with such a professional, where I'm not only learning at an incredible rate but also having a ball.
My Recommendations
The top track in my DJ wallet currently is:


If I could recommend only one of my tracks for you to listen to it would be:


If I could recommend only one track for you to listen to it would be:


My favourite Balance compilation is: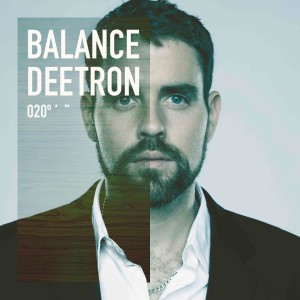 The last movie I watched that I really liked:
The Revenant (and how about that soundtrack!!!)
My favourite TV show:
Rake (The Aussie original)
If I could choose anyone to compile a Balance comp it would be:
Kink
Tracklisting
1. Yula Kasp – Leisure [Hippie Dance] 2. Powell – A Band [Diagonal] 3. Edward, Oskar Offerman – What Have We Become [Thema] 4. Mike Callander – Physics (Christian S Remix) [Motorik] 5. S-Man featuring GTO – 2 Close (Jimpster Remix) [Undr The Radr] 6. The 2 Bears – My Queen (Henrik Schwarz Remix) [Southern Fried] 7. The Jezabels – Pleasure Drive (Zero Percent Remix) – forthcoming
8. Mike Callander – Gentle Brute [Power Station] 9. GoldFFinch – Pulsation [Exit Strategy] 10. Phil Kieran – Missp (Tom Demac Remix) [Cocoon] 11. DJ HMC – Maurader [Reflector] 12. Plastikman – Cirkus [Plus8] 13. DJ Richard – I-Mir [Dial] 14. K.I.M – Be Home Soon [Caroline]