A chance meeting between two airplane passengers turn them into one of the most enduring techno/house production duos of our time… What would the odds on that be? Well, apparently not that bad, as that is exactly what happened between Dan Duncan and Igor Tchkotoua when, unbeknown to each other, they booked the same flight in '99. That chance meeting set a series of events in motion which has turned them into one of today's most popular techno acts.
In the early 00's their Submission Record label released bomb after Pig&Dan bomb; each release's minimal and uniquely coloured artwork catching your attention in the record store, the music on it arresting your attention on the dancefloor. Straddling a fine line between techno, progressive, house and whatever else they felt inspired by, those early days set them up for a promising career which payed dividends: Labels like Yoshitoshi, Cocoon and Herzblut all came knocking and the gig invites started to flow in.
Today Pig&Dan can easily be considered underground mainstays, and their increasingly tougher techno sound has become a firm favourite with audiences globally. Their label, Elevate, has been responsible for some heavy Beatport chart toppers; just check their latest production 'Obsession' which is currently doing serious dancefloor damage. Adam Beyer's popular Drumcode imprint have also been releasing Pig&Dan productions, and as Dan Duncan informs us : 'Next in line is 'La Bruja' which is our newest track about to drop on Drumcode's new A -Sides compilation this August.' No doubt that will be another bullseye…
Ahead of Pig&Dan's Australian tour (Dan Duncan will be flying the flag solo this time around), the duo have delivered a mix with the tough-as nails beats reigned in just a touch: 'In this mix we wanted to project a bit smoother and more melodic side to our sound. Something that's not so peak time and spread our musical wings just to show our versatility.' Featuring brand new collaborations alongside H.O.S.H. and Monika Kruse, this mix is 100% proof of why Pig&Dan is in such high demand…
Balance Selections Q+A
Name:
Dan Duncan & Igor Tchkotoua
Location:
Mallorca, Spain
Alias/Producer name:
Pig&Dan
Labels affiliated with:
ELEVATE, Drumcode, Diynamic
Our last 3 releases:

What music did you listen too as a child?
Funk, disco and soul music, as I grew up in the USA in the 70s. Saying that, the very first album I bought was "The White Album" by The Beatles. The main reason my family moved from the UK to the USA when I was 3 years old was because of my father's success with his band The Average White Band who were the very first white band who topped the American 'black charts' – still amazing to think that the charts were in fact separated back in those days.
Because of my father's success I was privileged to have been surrounded by some of the greats from those days for example one of his best friends Marvin Gaye who was known to babysit me on occasion. What I would do to be able to remember those times as he truly is one of my all-time heroes.
When was the first time that you realized that you liked electronic music?
In 1988 a track called 'HUMANIOD' by Stakker crossed over into the charts and had an edge to it that I'd never really heard before, a more techno sort of trashiness to it and it really caught my ear.
Back in the days my oldest buddy "Little Dan" (I was titled big Dan) had decks at is house, and that's where I started to try to mix two records together. Dan used to get great records and they really influenced from them on in. Tracks such as "Energy Flash" by Joey Beltram and "Positive Education" by SLAM held something so uplifting yet non-cheesy and that was the key element that we still try to feature in our own production right up to today. Music that takes you up in a deeper fashion, something that gets under your skin but encourages you to lose yourself in with a fat smile on your face. 



When was the first time you saw a DJ in a club?
I remember when I was rather young I was offered to go to an illegal warehouse party in London which was called JAFFA and had Paul Oakenfold, Andy Weatherall and Charlie Hall spinning. I entered a room and was instantly attracted to the sound of the music because of the sub bass and tribal sort of rhythms. The experience was enhanced by the incredible good time vibe of the people who were all sharing that euphoric moment. That was it I was hooked and already knew this was going to represent a major part in my life.
Which producers/artists/acts inspire you?
Wow, that's such a mega question for me because I started working in RAK Studios in London at 16 years young and got the chance to work with some incredible producers and groups through those years. Production-wise I would have to say Dave Allen who I worked with on "Desintegration" by the Cure. Him and Robert Smith locked into a very surreal world together and somehow made it translate sonically, simply majestic and Robert also taught me bucketloads.
Also, John Leckie who took me on and gave me my biggest break as his programmer where I worked on records such as The Stone Roses albums.
Musicians stem from Hendrix to Vangelis and the list goes on …. Inspirations are plentiful, for me it's always about those who step a bit out of the box. There's the obvious bunch such as Pink Floyd, Prince, Massive Attack, Kraftwerk, The Doors, Gnarles Barkley, Dead Prez. The spectrum is so vast it's very hard to write about all those I hold a passion for.
What was the last album that you downloaded/bought?
"The Trojan" Dub Collection, I'm a sucker for anything with sub bass in it and nothing beats the royalty of dub for me. It's always been deep in my roots.
What is your current production and DJ set up like?
There's no real go-to synth or plug-in that we have because we love to mix it up and we are truly experimentalists. You can have everything and still make nothing, it's all about what you do with what you have.
DJ set-up is:
Playdifferently Model 1 Mixer
4 X CDJ2000
Evermix Mixbox 2 recorder
Loads of Corsair Survivor Stealth USB drives
Buckets of Coconut water : )
Production set-up:
2 X Apple Mackoop Pro
2 X Logic X
2 X Native Instruments Reaktor
Moog Subfatty
Dave Smith MOFO
Korg Minilog
Roland System 1
Roland TR8
2 X Native Instruments Maschine
2 X Arturia V Collection
Waves Codex
What releases do you have on the horizon?
Just last week we released our collaboration tracks with H.O.S.H. on his album. We were really proud with how these turned out and really loved working with him. It's a match that really is mutual due the different pieces of the puzzle we seem to add as a team. We are proud of the outcome although I really don't mean that in an ego sense, just that the result is something we truly love playing out.
Next in line is "La Bruja" which is our newest track about to drop on the new A -Sides compilation on Adam Beyer's Drumcode this August.
Where can we hear you perform?
This year has been hectic already, and we have had so many amazing festivals so far with many more to come. First up to mention is the full Australian and USA tours we have planned in August. Dan is going to be heading to Australia for 7 dates from Perth to Wollongong. We also have been playing alongside Eric Prydz at Hi Ibiza, which has been epic. And not forgetting to mention Ultra Resistance on the 8th August at Privilege, and ADE we have Awakenings x Drumcode which is always a big one! We'll be featuring on a lot of the Drumcode label showcases this year and into 2018, as well as a selection of Ritchie Hawtin's Play Differently events worldwide.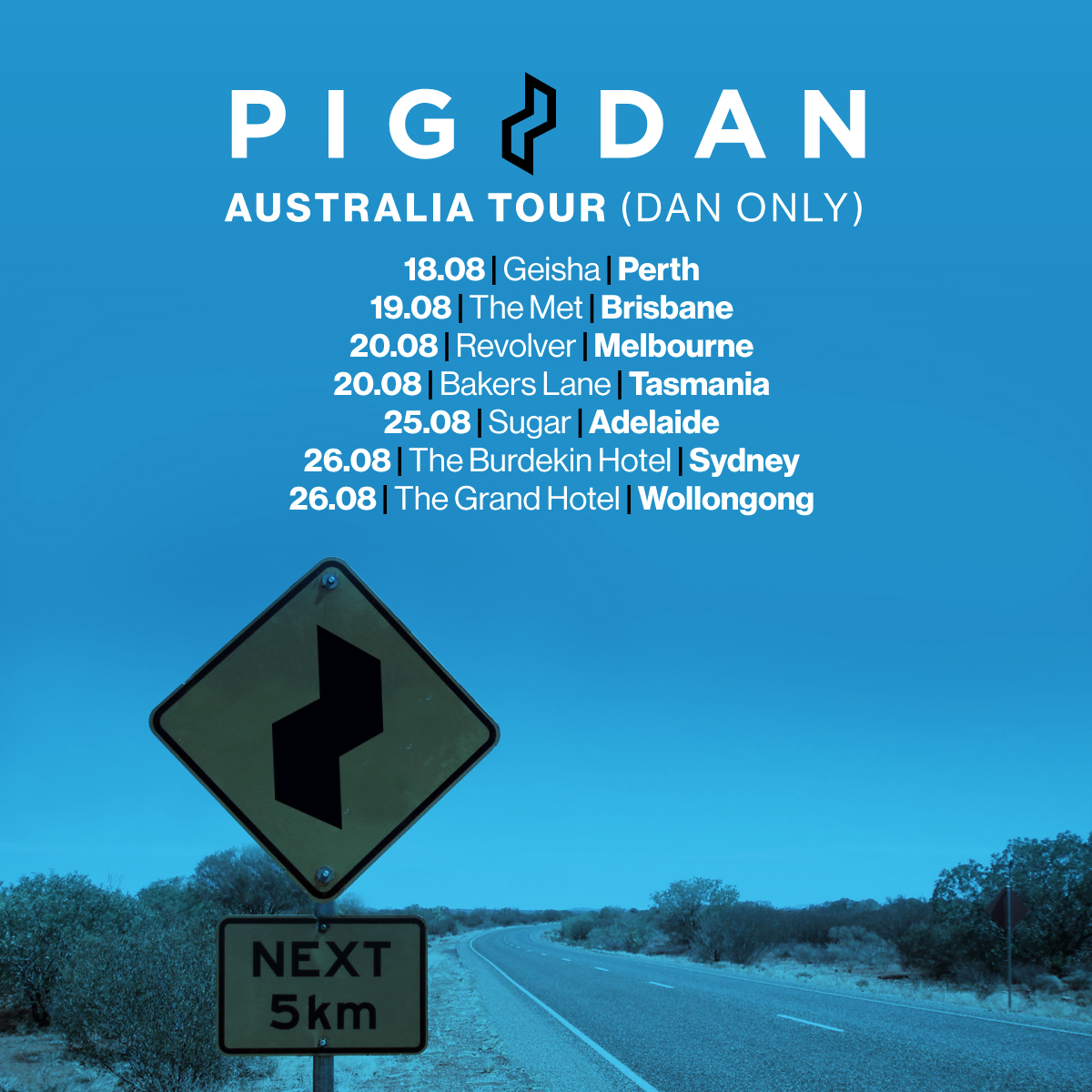 Tell us more about the podcast you made for Balance?
We recorded the mix B2B using our Model 1 mixer and 4X CDJ2000 Nexus decks. In this mix we wanted to project a bit smoother and more melodic side to our sound. Something that's not so peak time and spread our musical wings just to show our versatility. There's a lot of our own music including collaborations with H.O.S.H plus unreleased stuff we snuck in. We always feel that the only way to stick out as a DJ in a day where everyone has access to the same music is to play our own music. In turn this creates a very clear cut signature and we hope adds something unique to what we do out on the techno field.

My Recommendations
The top track in my DJ wallet currently is:
Pig&Dan "La Bruja" [Drumcode]
If I could recommend only one of my tracks for you to listen to it would be:
Pig&Dan "Pollerweisen"

If I could recommend only one track for you to listen to it would be:

It says it all and that's exactly how I feel in my life. Every single day you should be happy to be experiencing life, so play it fucking loud and feel good about the day-to-day crap you have to put up with! Life is short and has many tough challenges, but we like challenges or else we wouldn't be here right?  Soak it up, and dance with us. Enjoy the madness.
My favourite Balance compilation is:
Balance 006 by Antony Pappa, such a classic that really did inspire us right from the start ….
The last movie I watched that I really liked:
To be honest, neither of us ever watch TV, I would rather a BBC documentary or something you can learn from.
My favourite TV show:
Same for TV shows! We don't have the time, and living in Spain, there are lots of amazing things you can do outside. Get off the couch and see the world!
If I could choose anyone to compile a Balance comp it would be:
Mozart! I'd love to hear his thoughts on what we are all doing today.

Tracklisting
1. H.O.S.H and Pig&Dan – Brotherhood Balearea [Fryhide] 2. H.O.S.H and Pig&Dan – Atlantis Is Not A Fairytale [Fryhde] 3. Reset Robot – Bark Orders [Ovum] 4. Pig&Dan – Acid Bath [ELEVATE] 5. Pig&Dan – Rain (Sad Mix) [Promo] 6. H.O.S.H feat Karmon – Awakening Of The Birds [Fryhide] 7. Pig&Dan – In My Mind [ELEVATE] 8. Pig&Dan – 4 Play [Bedrock] 9. Pig&Dan – Saturn Storm (Alberto Ruiz Remix) [Promo] 10. Pig&Dan and Monika Kruse – Get On Me [Terminal M] 11. Mark Reeve – TBC (Promo)
12. Wehbba – Atlantis [ELEVATE promo)