Known as one of the Netherlands's most technically proficient producers, Secret Cinema is preparing to celebrate his 25th year in the music industry this year. Responsible for classics like 'Sonar System' (as Meng Syndicate), 'Mary Go Wild' and 'Watch me Now' (as Grooveyard), 'Timeless Attitude', 'Gung Ho' and 'Shake Ur Tek-Ass' (as Secret Cinema), Jeroen Verheij is still as relevant in techno as he was in the 90s. As an integral part of the global dance community, he has dominated main stages around the world, as well as all of the other global haunts such as Womb, Pacha, Air and Sankeys. To add to this, his label Gem Records has been garnering more international recognition with every release. Today Secret Cinema is regarded as one of the mainstay's of the scene, and he will be bringing his highly respectable reputation and extensive catalogue to Australia to kick off his worldwide Silver Tour, which will include performances at Rainbow Serpent Festival and Piknic Elektronik. To coincide with his 25 year anniversary, he has released a luxury box entitled SILVER, which includes his entire discography, DVD documentary and all new remixes from the likes of Christian Smith, Heiko Laux and Joris Voorn to name a few. Celebrate one of the scene pioneers with this Balance Selections podcast which ticks all the right boxes…
Balance Selections Q+A
Name:
Jeroen Verheij  

Location:
Amsterdam
Alias/Producer name:
Secret Cinema
Soundcloud:
soundcloud.com/secretcinema
Facebook:
www.facebook.com/secretcinema.gem
Labels affiliated with:
Drumcode/Cocoon/Gem Records
My last 3 releases:
SILVER 25 years of Secret Cinema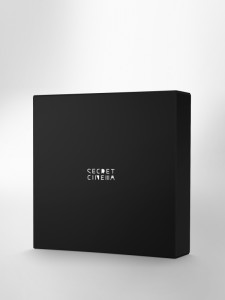 What music did you listen too as a child?
My dad played acoustic bass in a jazz-band so we always had musicians in the house. I never really could choose what instrument I really liked though, but eventually I chose piano. Although i wanted to play jazz and boogie boogie as a kid, I was not allowed to. Endless classical riffs made me hate the piano eventually….
When was the first time that you realized that you liked electronic music?
When I heard it on the dance floor as a 16 year old! I had older friends who brought me to a famous club in Rotterdam called Parkzicht. When those beats hit me I knew this was what I was looking for after all those years of searching my instrument. From then on I played laptop. Later this joint became famous for the birth of Gabber house…I was long gone by then….
When was the first time you saw a DJ in a club?
As answered above, that was my first in your face experience! I remember also as a kid I had a birthday party where I invited all the kids from my class that year. I was 11 or 12 and had my first gig ever, playing records for my classmates!
Which producers/artists/acts inspire you?
Anything that refreshes a genre and keeps it's limits within the acceptable. I mean you can always go more crazy than ever before, but is there still an emotion you like to share? I want music to be organic as weird it may sound. Africa always has been a big influence on me and I compare electronics with that groove and natural feel for rhythm. Most of my favorite musicians come from jazz-inspired music. Bands like Weather Report and Mahavishnu Orchestra I still play weekly from my vinyl collection.
What was the last album that you downloaded/bought?
The last album I bought was Levon Vincent's latest album. I saw someone post a video asking one of the albums tracks and I knew what it was so I commented. Realizing I didn't even have it! That means I had to buy it off course!! I score a lot of vinyls on discogs as well. Every now and then I can't help getting my hands dirty at a store and satisfy the need for scavenging.
What is your current production and DJ set up like?
Ever since I produce I use a computer. My first release, Meng Syndicate – Sonar System was made on an Amiga 500 computer with only 512kb of internal memory. Everything I do seems to go backwards. Started with a computer, but now I am fully into my modular synth and my elektron analog rytm drumcomputer. I didn't start as a DJ, but as a producer and then turned DJ after playing live for over 15 years. I use a laptop on stage for DJ-ing. I just liked it too much. Making mixes impossible to make with vinyl, I can really think about the flow and story of it all.
What releases do you have on the horizon?
The biggest release is no doubt my SILVER box. It holds 3 vinyls with remixes of some of my older tracks, a USB with all of my releases…yes ALL! A documentary, a booklet, cards, cd's and so on. My first release was in 1991, so yes…this year I am 25 year in the business so I celebrate it with this limited to 500 copies SILVER box. Pre-orders went really well and almost half is already sold, without anyone even laying eyes on it yet. But before it hits the shelves on 26th of February, I have a release with Egbert called Maximaal on my label Gem Records. And I can't wait to see what that will do in the charts….reactions when we play it are always like mayhem so this will be good!
Where can we hear you perform?
No residency, I play all over, with an upcoming tour in Australia starting 22nd of January in Brisbane and on to Rainbow Serpent Festival, and more gigs in Melbourne and Sidney with Jeff Mills and Derrick May. An asian tour including an Eclipse Festival in Sulawesi, Japan and Thailand shows have been added as well and off course the SILVER release party on the 26th of February where I play 6hrs with Egbert back 2 back. Plenty of opportunity for party moments!
Tell us more about the podcast you made for Balance?
Podcasts are not my favorite thing to be honest because I can never find the right time to do it and I play without a crowd. i just need a crowd in front of me! But knowing the famous balance I knew I had to do well. I tried to make it a listen friendly mix, but also a bit trip and not far from what I would play in a club or with an excellent curious crowd in front. I did it in one take and I am happy with the result, but off course it can always be better, haha! i just hope you guys and the listeners will enjoy it's diversity of techno.
My Recommendations
The top track in my DJ wallet currently is:
If I could recommend only one of my tracks for you to listen to it would be:
Sounds like an advertisement, but that new Maximaal EP I did with Egbert just works every time! Although Ana Bola on Cocoon from a while back just holds it all….almost perfect.
If I could recommend only one track for you to listen to it would be:
Impossible to answer but if one thing comes to mind it is an Ultra Meditation CD that works with Subtones on your brainwaves. It gives patterns of emotion just by sound….when I experienced this for the first time, it blew me away…what sound can do to your imagination is just magic.
My favourite Balance compilation is:
A tie between Joris Voorn and Agoria
The last movie I watched that I really liked:
I am really NOT a Hollywood fan, but Star Wars the Force Awakens was everything i always wanted it to be.
My favourite TV show:
Breaking Bad
If I could choose anyone to compile a Balance comp it would be:
MYSELF!!!! I have always imagined what it would be like to get that chance and show the world who I really am by using other peoples music….isn't that wonderful?!
Tracklisting
Danielle Nicole – Everytime (Marcos In Dub Remix) [Fantastic Friends] Clarian – Mission To Bars [Kompakt] Dense Pika – Airless (Grain Remix) [Hotflush] Acid Mondays – Techno Wellys (Original Mix) [Rumors] Joshua Calleja – Selector (Original Mix) [HardCutz] Shmitty – Ride It Out (original Mix)
Pascual – Innertube (Digital Only) [EX AEQUO] Tom Laws – Plastic Gangster (Original Mix) [Metodiq] Dawn Razor – A Tention (Dubspeeka Remix) [Intellighenzia Electronica] Arnaud Le Texier – Continuüm [Affin] Daniel Bortz – Don't Forget Your Sword (Original Mix) [Pastamusik] Black Mami 'Paris' (Savina Remix)
SQL – Obstacles (Enrico Sangiuliano & Secret Cinema Remix) [Suara] Dast – Panthalassa [Etruria Beat] Forteba – Iliopsoas [Plastic City]