If you walked into any club worth its salt back in 2009, chances were pretty high you would encounter one of the most outrageous tracks to be released that year. Patrice Bäumel's 'Roar' (on Get Physical records) was a perfect slice of techno/house/electronica madness, a track so woundly tied up that you could physically feel the anxiety rise up in your body in anticipation for what was about to happen. That release heralded a new force on the scene and can rightly be considered as Bäumel's breakout track. Fast forward 6 years later, and the ex-Trouw resident has attained a level of maturity with his sound that few artists reach, a fact that has not gone unnoticed by major players like K7, Systematic, Diynamic, Trouw and Turbo, all of whom has released his music at some point. Part of the Kompakt stable now, Baumel has been spreading his house/techno gospel all around the world, delivering the sort of epic, yet somehow restraint sets, that will make you seek all of his online mixes afterwards. He really has been going about his business in a way that is admirable and non-fussy, describing what he does as 'techno music for grown-ups' – a very apt description indeed. One read of his excellent interview below really paints a picture of an artist who just LOVES music, and it really shows in the tracklisting which features a host of obscure, yet excellent selections. And we are pleased to say that his Balance podcast might just go down as a stone cold classic.
Balance Selections Q+A
Name:
Patrice Bäumel

Location:
Amsterdam

Alias/Producer name:
Patrice Bäumel
Soundcloud:
https://soundcloud.com/patrice-baumel
Facebook:
www.facebook.com/patrice.baumel
Labels affiliated with:
Kompakt

My last 3 releases:

What music did you listen too as a child?
My dad was a music journalist, which meant there was always music around the house for as long as I can remember. Mostly weird stuff, free jazz, Frank Zappa, Captain Beefheart, but also all the important rock and punk bands – Ramones, Sex Pistols, The Doors, Rolling Stones, you name it. We had a huge vinyl collection at home. The stuff that I was most drawn to as a child were bands like The Cure, Depeche Mode, Yello, Erasure, Cabaret Voltaire. Mainly music that was leaning towards the electronic spectrum of pop music. Growing up of course I had my metal phase with Metallica and Guns 'n' Roses as favourites. Later when I started experimenting with weed I needed a fitting soundtrack to go along with that and west coast g-funk – Snoop, Dre, NWA, Warren G – was perfect for that. I could totally relate to the "dope, hoes and party" kind of message, especially since I was super shy and had absolutely no game with the ladies. One needs to vent somehow.
When was the first time that you realized that you liked electronic music?
The proper house and techno bug bit me pretty late, around when I was 17 and they started to play that sort of music in the discotheques back home. At the time the DJ would play an hour of pop, followed by an hour of slow dance, then hip hop and so on. Towards the end he would always play an hour of what we would call rave music. That usually was the best part of the night – Westbam, Jam & Spoon, Marusha, Paul van Dyk were really popular. People were going off.
Slowly, more and more small illegal warehouse parties started popping up and would play more experimental stuff. Just strobes and a never-ending beat. Total anonymity on the dancefloor, nobody cared who you were and what you wore. There was a sense of community and openness I had never experienced before. The whole experience was intense and physical. I was sold.
When was the first time you saw a DJ in a club?
That must have been at some school dance way before I started to go out proper. I even dj'ed at parties like that when I was 9 or 10. Back then we didn't have Funktion One rigs but played music off of laughably small portable tape recorders… I even have a photo to illustrate this: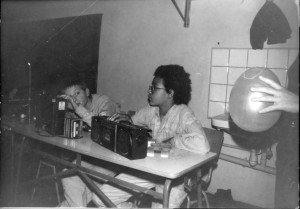 My first proper club experience was Mayday in Berlin, at the time the biggest and best rave party in Germany. It took clubbing to a whole new level, dancing from 6 in the afternoon to 6 in the morning, sober, just high on music. I was so in love with the sound that I spent hours leaning against the bass speakers. The tinnitus I got that night never went away. The music was mostly hardcore techno, super high energy stuff in the 160-200 bpm range. Amazing vibe. DJ's that played there were guys like Gizmo, Tanith, Dark Raver, Westbam. It really was a music revolution, there was no going back to discotheques after that for me.
Which producers/artists/acts inspire you?
Like I mentioned earlier, Depeche Mode were hugely influential in my formative years. The contrast of cold machine-like sounds and human warmth is something I try recapture in my dj sets and productions to this very day. Apart from that what really has a huge impact on me is music that is radically different from anything that came before it. I remember feeling blown away by Akufen's album "My Way". Also lots of the stuff on German imprint Raster-Noton is amazing – Emptyset, Kangding Ray and SND in particular. That music is stripped to its bare essence, there is no decoration there whatsoever, it feels monolithic, like a Richard Serra sculpture. I love how they combine visual art with music. It's not the stuff that tops charts, which usually is well-produced but generic middle-of-the-road house and techno, but it is the sort of music that will lead us into the future.
From the artists that are closer to the "normal" club scene, I am a big fan of Dave DK and Frank Wiedemann from Âme. Their level of production leaves me speechless. I can also relate to geniuses of our time like Nicolas Jaar or Flying Lotus – it's amazing to make something so unique that you break through genre boundaries.
What was the last album that you downloaded/bought?
The new Howling album, which I just found on Beatport. I get sent a lot of promos but prefer to find my own music. I don't care how old it is, what works for me is to pick out an interesting artist and listen to his or her entire back catalogue. That way my hit rate is much higher than wading through hundreds of (often unsolicited) promos.
What is your current production and DJ set up like?
In the studio I use Ableton Live. My go-to plugins are Ozone 5, u-He Diva, Native Instruments Komplete 9 and the wonderfully transparent SPL Passeq EQ. I mix my music on a Midas Venice F32 analog mixer, hardware synths I currently use are Dave Smith Poly Evolver and Teenage Engineering OP-1. My monitor speakers are Klein & Hummel O110's, but I make most of my music on headphones (Sennheiser HD25 and AKG K701) in order to spare the neighbours.
My DJ setup is 3 CDJ2000-Nexus and SD cards. I used to play with Traktor but the convenience of travelling light and not have to bring your laptop to the club has won me over. Pioneer's Rekordbox software has now reached a very usable level of features and stability. I have ditched vinyl a long time ago, simply because I like to use a lot of homemade edits and don't enjoy travelling with records.
What releases do you have on the horizon?
I have made a new track for the Kompakt Total 15 compilation, which will appear on the vinyl edition only. It's called "Fenomeno". Apart from that I have just released a remix for French indie band Colder. There are more remixes in the pipeline, one for German newcomer Someone Outside, the other for an amazing new Blond:ish tune on Kompakt. Towards the end of the year I have an EP planned on Jennifer Cardini's Correspondant label.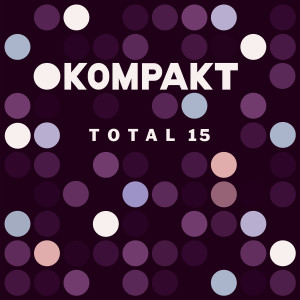 Where can we hear you perform?
Since the closing of Trouw Amsterdam I hold no residency, which is a welcome change. I travel quite a bit and will do a few festivals this summer – Lowlands and Voltt in Holland, Sonne Mond und Sterne in Germany and Burning Man Festival in the States. I will also play Space Ibiza in the summer along with lots of other gigs throughout the world.
Tell us more about the podcast you made for Balance?
This mix was made on my laptop using Ableton Live. While most of my mixes online are recorded live at a party, for Balance I wanted to dig a little deeper and make sure that every transition feels musical and everything comes together as one continuous piece of music rather than a sequence of separate tracks. A lot of the tracks are heavily edited, too. The center piece is Atom TM's "Riding the Void", which is the deepest, darkest track in the middle of the mix, the pivot point, the trough that makes it possible for there to be peaks. I also start and finish with the same track. This closes the circle. On auto-repeat the mix will almost feel like there is no beginning and no end. It is meant to be an MDMA inspired afterhour mix, something shifts between the hypnotic and the euphoric.
My Recommendations
The top track in my DJ wallet currently is:
Mehmet Akar & Orcun Onur – Logos (Matias Chilano Rmx): Like Moby's "Go" this is another variation of the famous Twin Peaks theme, riding that beautiful edge between techno and progressive – a record that ties the room together.
If I could recommend only one of my tracks for you to listen to it would be: 
The Woods. Musically this is me in a nutshell.
If I could recommend only one track for you to listen to it would be:
Mickey Moonlight – Love Pattern (Isolee Remix). I love Isolee's unpredictable, alien sound. Very clever and futuristic.
My favourite Balance compilation is:
Joris Voorn. That is exactly the way how to approach the compilation medium and elevate it above the regular dj set experience.
The last movie I watched that I really liked:


If I could choose anyone to compile a Balance comp it would be:
Mano Le Tough. Cool dude who deserves everything he has coming his way as he did the hard yards in order to become a master of his trade. One of the few djs I know who can play any size of venue and still remain interesting. He would take on the challenge and come up with something next level.

Tracklisting

DJ Metatron – Spiral Worlds [Traumprinz] Carl Craig – At Les [Planet E Communications] Dorisburg – Tundra [Aniara] Moscoman – Imagine Life [Correspondant] Marcus Worgull & Peter Pardeike – Salam [Innervisions] M.A.N.D.Y. – Gizmo [Get Physical] Atom TM – Riding The Void [Raster-Noton] Laibach – The Whistleblower (Marcel Dettmann Remix) [MUTE] Zombies In Miami – The End Of The Beginning [Correspondant] Freimann & Thurau – Mind Map (Patrick Chardronnet Remix) [Koyo] Barker & Baumecker – Spur [Ostgut Ton] Mind Against – Space Thru Me [Hideout Music] Howling – X Machine
Bicep – Celeste [AUS] Thore Pfeiffer – Gipfel [Kompakt] DJ Metatron – Spiral Worlds [Traumprinz]