Dispatch date: November 12th, 2021
100% cotton t-shirt, which features the B logo in a white screen print finish on the front and white Balance logo on the back.
Men sizes: Small, Medium, Large, X-Large
Colours: Black, Navy, Army
PLEASE CHECK THE SIZE CHART FOR YOUR EXACT SIZE
Product Details:
Regular fit
Crew neck
180 GSM
100% combed cotton (marles 15% viscose)
Neck ribbing, side seamed, shoulder to shoulder tape, double needle hems, pre-shrunk to minimise shrinkage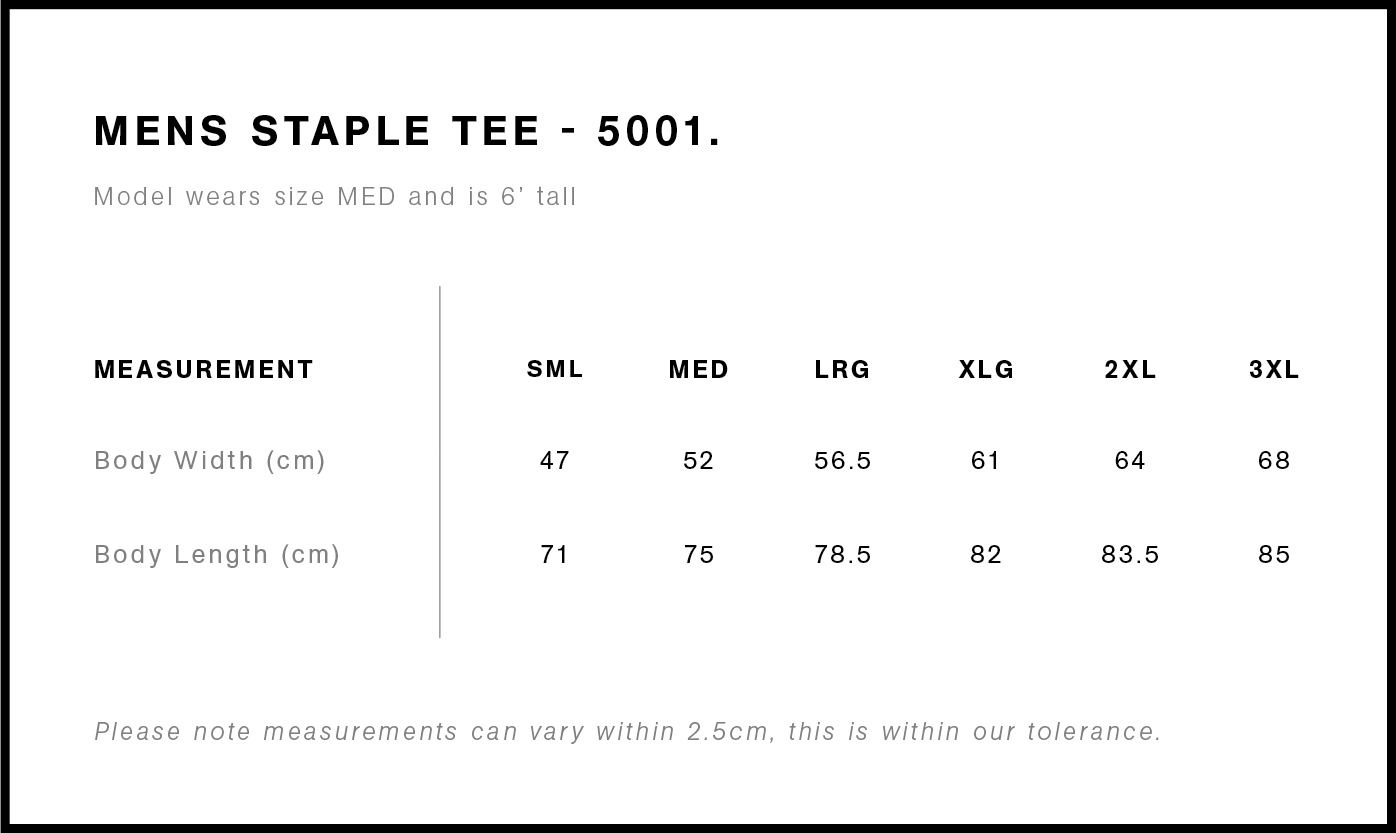 Deliveries and Returns
Balance Music uses Sendle for all domestic and International deliveries
For customers in AU 🇦🇺
Domestic Delivery Tracking
'Signature on Delivery' has been changed to 'Authority to Leave' to eliminate person-to-person contact. As an essential service, we are picking up and delivering parcels across all states and territories despite the latest COVID lockdowns in New South Wales, Victoria and the ACT. You may experience pick up and delivery delays due to increased government border checks for delivery drivers, record online shopping, and high demand for parcel delivery.
International Delivery Tracking

Due to the cancellation of many international flights and country-specific restrictions, overseas transit times may be delayed. See our full list of temporarily suspended destinations.
Our international parcel ETA's continue to be impacted:
Zone 1 – New Zealand (10-16 working days)
Zone 2, 3 & 4 – Asia and the Pacific, North America, UK and Europe (10-28 working days)
Zone 5 – Rest of the world (14-30 working days)
For customers in the US 🇺🇸
Sendle is fully operational across all 50 states and Puerto Rico.
Returns
If for any reason if the product fails to meet your expectations, you may return or exchange your items within 28 days of receipt of your order.
Please ensure the goods are returned with any sales tags and packaging to Balance Music. Please contact info@balancemusic.com.au for further information.
Please note that if you require an exchange, we will ask you to pay for the return postage and we will contact you via email to arrange payment. Thank you.
We, unfortunately, do not accept returns on any of our vinyl records or poster prints. This is due to return shipping cost and to avoid damages on the return trip, along with a couple of quality control reasons. Thank you for your understanding.