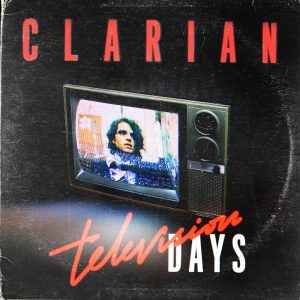 20th April sees Canada's electronic maestro Clarian release 'Television Days' – the second single taken from his same-titled debut LP, 'Television Days' (Balance Music).
The track, which has been remastered especially for this release, is one of the album's standout moments – with its mellow synths and other synthetic effects providing the perfect backdrop for the Canadian's nonchalant, 80s inspired vocals.
The release also comes with remixes from Guy J, Tim Engelhardt and Analog Stars (Phil K & Danny Bonnici). Established Israeli DJ/producer Guy J transforms 'Television Days' into a club-ready number, choosing to extend the track's duration and place an array of slick synth arpeggios alongside a probing drum track to create a more up-tempo vibe.
One of Cologne's youngest and brightest names Tim Engelhardt takes the track down deeper avenues, with Clarian's vocals sitting behind a number of stunning atmospheric synths and intriguing percussive elements. A dub version, which completely omits the original's vocals, is also available.
Phil K & Danny Bonnici team up under new alias Analog Stars to rework 'Television Days', offering a funky-groover filled with a disco-tinged drum track, retro-sounding chords and other vintage effects that perfectly complement the sonic palette of the original. This also comes with a dub version.
TRACKLIST
1. Clarian – Television Days (Original mix)
2. Clarian – Television Days (Guy J remix)
3. Clarian – Television Days (Tim Engelhardt remix)
4. Clarian – Television Days (Tim Engelhardt dub remix)
5. Clarian – Television Days (Analog Stars remix)
6. Clarian – Television Days (Analog Stars dub remix)