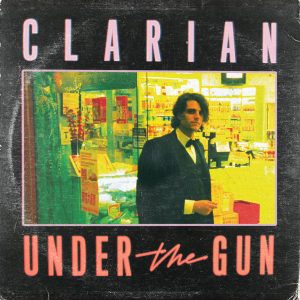 January 26th sees enigmatic DJ/producer Clarian release 'Under The Gun'– the first single taken from his forthcoming debut album, Television Days, released via Balance Music, featuring remixes from Tiga and Michael Mayer.
"Television days" is nothing fancy; but it's good fun and it's got guts." – Kevin Jones
With its retro-tinted synths, pastoral percussion and reverbed vocals, 'Under The Gun' offers a perfect glimpse into the sonic palette of Clarian and his debut LP. The track's soaring, atmospheric synths and lush pad tones perfectly accompany the Canadian's wistful vocal performance, one that nods in the direction of the 80s synth-pop works of Mute Records.
'Under The Gun' is also being released with two high-calibre remixes from dance music titans Michael Mayer and Tiga. Prolific DJ/producer and Kompakt co-owner Michael Mayer transforms the track to a melodic techno offering, placing in a low-end, chugging groove that perfectly contrasts to the nonchalant vocals / synths of the original.
Fellow Canadian Tiga has previously remixed the likes of The xx, LCD Soundsytem, Moby, Depeche Mode and Justice, and continues his fine form on this rework, creating a mesmerising number that mostly omits the original's vocals, instead using layers of percussion, lo-fi drums and long, drawn out synths.
Clarian, a DJ, songwriter and sound engineer from Montreal, first gained notable recognition by the music scene via his former work in synth pop duo Footprintz, releasing several highly-acclaimed singles as well as 'Escape Yourself', an album project that was co-produced with Ewan Pearson and released via Visionquest. He followed this up with a number of well received releases on labels such as Kompakt, Turbo, Rumors and Founders of Filth.
Now, following an "unusual winter in Mexico in which he was exiled by a local cult", Clarian turns his attention to his debut LP (under his own name), Television Days.
Tracklisting
1. Under The Gun (Original mix)
2. Under The Gun (Tiga remix)
3. Under The Gun (Michael Mayer remix)