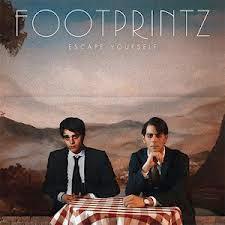 The long awaited Footprintz debut album 'Escape Yourself' finally arrives!  A piece of work that delivers on a level that many dance LP's aspire to reach but few attain; a 'proper' album with each song taking you deeper and deeper into what is an accomplished and well-rounded body of work.
From the moment the opening chords of 'The Things That Last Forever' give way to a hypnotic bassline, you know you're on your way. Basslines form a key part of the Footprintz sound, acting as an anchor from which vocal melodies, synth lines and warm chords weave around in an often psychedelic style. Debut single, 'Utopia', exemplifies this ethic with its synth flirtations and optimistic vocal musings adding layers upon a solid core. Tracks like 'Uncertain Change' and recent single 'Dangers of The Mouth' tackle this subject head on, focusing on the insecurities that arise from growing up. 'Zanzibar' takes a lighter approach, touching on the innocence of youth that brings with it, its own simple pleasures. What becomes apparent throughout 'Escape Yourself' is a real craftsmanship to Footprintz's songwriting.
Each track reveals a little more on each listen, aided by the slick production work, done predominantly by the guys themselves in their Montreal bunker studio full of analogue equipment, odd instruments and a fridge laden with 'special brownies'; which goes some way to explain a noirish-haze that permeates through the album.
TRACKLISITING

01 The Things That Last Forever
02 Heaven Felt Like Night
03 Utopia
04 The Favourite Game
05 Private Enemy
06 The Invisible
07 Uncertain Change
08 Zanzibar
09 Dangers of The Mouth
10 The Fear of Numbers
11 The Nightingale
12 Keys to the Sky
Release Date: 22nd March