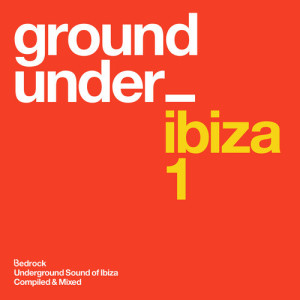 Bedrock presents their first foray into the Ibizan-branded compilation platform with Underground Ibiza 1.
John Digweed's Bedrock label has gone from strength to strength over the last few years with regular exclusive compilations and mix CD's from the man himself as well as the super successful 'Miami' series which has completely sold out with each release. So it makes sense for Bedrock to now take on the white Isle.
With every Ibiza season comes boat loads of compilations, mix CD's and re releases, so it makes sense for Bedrock to now take on the white Isle. Choosing to represent the more underground sounds of Ibiza, much like they have done with their 'Miami' releases, Bedrock have chosen a double CD release of exclusive tracks which will feature productions from new names like Jemmy and Richie G alongside more established Bedrock producers.
The first disc is set to be more laid back with a more cruisy day time orientated vibe featuring cuts from Charlie May, King Unique, The Japanese Popstars amongst others. Whilst the second disc bumps up the tempo and takes a more club focus with tracks from Marco Bailey, Sasha Carassi,  Marc Marzenit and more, as well as a notable remix of Guy J's classic 'Lamur' by none other than Sebastien Léger.
Underground Ibiza 1 is out August 15 on Bedrock.
Tracklist:
CD1
1. Brakes Pads – King Unique
2. Barely Audible – Charlie May
3. Out Of Nowhere (Reprise) – The Japanese Popstars
4. Waterloo Blues (Ambient Version) – Jemmy
5. We Control Everything – Charlie May
6. The Rebirth (Blissed Out Mix) – Oniris (feat. Pat Brooks)
7. Havana (Downtempo Mix) – Ramon Tapia & Stavroz
8. Dreams (Ibiza Summer Balearic Remix) – Jimmy Van M & Affkt (feat Luxor T)
9. Stargazing – Mantis
10. Sahara – Pig & Dan
11. Roots – Mantis
12. On The Rocks – Pig & Dan
13. Brakes (feat. Packard Ghost) – King Unique
CD2
1. Fictional Crossover – Marc Marzenit
2. Cataleya – Marco Bailey
3. Tale Of Memories – Sasha Carassi
4. Havana (Dub) – Ramon Tapia & Stavroz
5. Hypernova – Eagles & Butterflies
6. Atoll – Ian O'Donovan
7. Puzzle Love – Richie G
8. Tenno 5 – Misstress Barbara
9. Tomahawk Dub – Dave Angel
10. Lamur (Sebastien Leger Remix) – Guy J