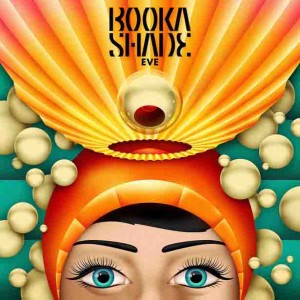 Booka Shade will release their fifth studio album entitled Eve this coming November on Embassy One Recordings.
The new 2CD album from Booka Shade aka Walter Merziger and Arno Kammermeier seems to be named after Manchester's acclaimed EVE Studios where they set-up shop to record. EVE Studios is a "residential vintage recording studio" where musicians can live and work with rare, old-school recording equipment around the clock (you can find out more about the studio here). Guests on Eve will include Azari & III collaborator Fritz Helder, Groove Armada's Andy Cato on trombone, and Fritz Kalkbrenner who contributed with vocals on the tracks 'Crossing Borders' and 'Love Drug'. This will be their first artist album that they haven't released on Get Physical Recordings.
On their Soundcloud page Booka Shade has posted a sampler for 'Love Inc,' the apparent first single to be taken from Eve.

Tracklisting 
CD 1
01. Many Rivers
02. Love Inc
03. Kalimera
04. Leema
05. Maifeld
06. Perfect Time
07. Time's On My Side
08. Crossing Borders (feat. Fritz Kalkbrenner)
09. Love Drug (feat. Fritz Helder)
10. Only When You Wake Up
11. Ballad Of The East
12. Jesolo
CD 2
01. Kalimera
02. Love Drug (feat. Fritz Helder)
03. Maifeld
04. Chateau Rouge
05. Love Inc
06. Perfect Time
07. Glory Box
08. Many Rivers
09. Crossing Borders (feat. Fritz Kalkbrenner)