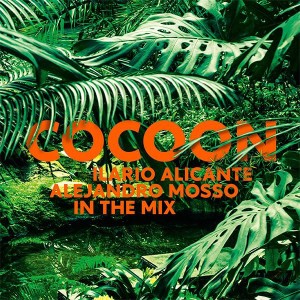 Whenever I see the name Cocoon, images of Sven Vath's weathered face appears in my mind, t-shirt firmly wrapped around his head. The type of music that accompanies this imagery is one of warped and wonky, fun-filled techno; dance floor music. This is what this mix is all about. The infamous label has released its latest Ibiza branded compilation called Cocoon In The Mix with Italian Ilario Alicante taking on the first CD, an the Argentinian Alejandro Mosso the second.
Ilario Alicante's mix kicks off innocuously enough; the looped strings and shuffled bass heavy beat of Henrik Bergqvist's Go For What Hurts creates a warm yet raw start to the proceedings. Alicante teases the bass out of the tracks expertly throughout the first half of the mix to create tension and allow tracks to ride long after the new track has been brought in – he's my kind of DJ. By the time Cosmin TRG – Semipresent blends into Trus'Me – Somebody he's created quite the momentum. Big solid kick drums take you straight to the dance floor before the wonderful keys from Henrik Schwarz – When Things Are Difficult demonstrate Alicante's depth as a selector. My initial preconceptions of expecting a more techno-influenced affair were slightly miscued. This is house music. Chuggy, hypnotic, raw house music. It's upbeat and jacking, with just the right blends of melody and techno influence. The mix reaches its climax and is masterfully closed with the soulful Detroit sounds of Omar S – It's Money in the D / Parris Mitchell – Follow me Ghetto Accapella. Clocking in at just under an hour, Alicante has shown remarkable ability to pack a punch while still creating a coherent start, middle and end. Very impressive!
Next up is Alejandro Mosso who has curated a CD solely of his own productions. Honestly, I am not familiar with his work, so I go in with an open mind, but the press release assures me to expect 'fascinating percussion lines' with 'house and minimal techno elements'. Sounds good to me!
The mix kicks off with Selva, which is has a seriously wonky minimal tech-house vibe. It's wonderfully rich and textured and FUN! The rest of the mix continues on this path, high tempo, rolling minimal tech house. The glitchy and melodic Tupungato takes it deeper and we're lifted up again by the acid rhythms of Nightwalker. By this stage however we've heard the same beat for nearly the entire mix and it's starting to wear thin. This is the danger of playing a live set entirely out of your own tracks: if you don't have the depth and range in production, it can become a bit samey.
Overall this is a largely enjoyable and fun ride. Ilario Alicante demonstrates his knack for weaving solid house vibes, while Alejandro Mosso take us through his high-energy minimal tech house sound. While it may not have the longevity of other mixes, it certainly introduced me to a couple of DJ's and producers who I'll definitely keep an eye on in the future.

TRACKLISTING

CD1
1. Terekke – Amaze
2. Henrik Bergqvist – Go for what hurts
3. A Sagittariun – The Circle Stops Somewhere (MD2 MELLO MIX)
4. Ryan Elliot – Still Steppin
5. Head High – Keep on Talking
6. Dj Qu – Undescribed2 (She's blank)
7. Cosmin TRG – Semipresent
8. Trus'me – Somebody
9. Henrik Schwarz – When Things Are Difficult
10. Parris Mitchel – Near My Eyes (Cassy Remix)
11. Ritzi Lee – Reverse Processed
12. Benjamin Damage – 010x
13. Mathew Jonson – 911, How Can I Help You?
14. Omar S / Parris Mitchell – It's Money in the D / Follow me Ghetto (Acid) Accapella
CD2
1. Alejandro Mosso – Selva
2. Alejandro Mosso – Yguasu
3. Alejandro Mosso – Aconcagua
4. Alejandro Mosso – Tupungato
5. Christian Sol – Kids At Work (Alejandro Mosso Remix)
6. Alejandro Mosso – Unreleased
7. Alejandro Mosso – Nightwalker
8. Alejandro Mosso – Grinding Love
9. Alejandro Mosso – Cashmere