T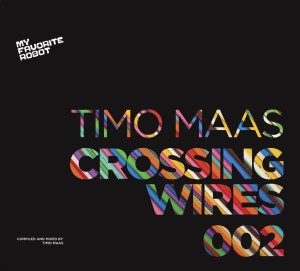 he new mix series 'Crossing Wires' from Toronto's My Favourite Robot label has grabbed our attention with Timo Maas in the mix for their second instalment.  The series was launched last year with label owners My Favourite Robot mixing 15 exclusive tracks for the first edition which notably included a Timo Maas track. One year on and the German veteran himself takes control in what hopefully is an effective and hypnotic journey into the Timo Maas sound…
Maas is no stranger to the mix compilation platform having delivered a Balance (017) back in 2010 as well his seminal 'Music for the Maases' compilations in the early 00's. For 'Crossing Wires 002' he bypasses the blueprint he followed in his past compilations by including only a few of his own productions, leaving the rest of the mix to be filled out with an exclusive selection of tracks from other reputable DJs as well as lesser known producers.
It starts dreamy enough with a great intro from rising star Eric Volta who delivers his trademark melodic synth swathes alongside intricate percussion. This sets the mood for a deep number by My Favourite Robot's 'Dead of the Dance' whose smatterings of retro inspired synths gels well with the quirky electro pop number 'Consumer W****' by DJ Sossa. Signal Flow & DisCerN's 'Coarse Language' is up next delivering a darker tonality to proceedings, maybe even preparing the listener for a change of pace to what's laying ahead. If however you are thinking this is going to be a deep smoky workout from here on in then rest assured, as the illusion is shattered with the arrival of of standout track 'Pleanty of Spiders' from Tim Green. From here on in the mix goes into a more dancefloor focused realm from which it never strays too far for the remainder of the mix.
The mix does operate within a framework of lush melodies and spacious soundscapes which are a continuous theme throughout. There are some superb moments like the transitions between Martin Buttrich's 'Bubble Heat' and Maas' own 'Watching the Robots', which keeps the groove moving forward with a sense of suspense. There is also a lovely change of atmospheres from Villanova's 'Ola', with its soft wispy vocals, to Sebastian Mullaert's (of Minilogue fame) remix of Amina, and Pezzner's track 'Exit', which features the futuristic sci-fi spaciousness that Minilogue is known for. It really is an almost comforting section and feels nice to be brought into this more hypnotic pocket by Maas. We stay entranced from here on in with tracks by Daniel Stefanik, Chris Carrier, Santos and Timo Maas himself, all being perfectly programmed by Maas who really showcases his mixing chops. The mix is bookended with the Villanova interpretation of Agoria and Scalde's 'For One Hour', an epic vocal number which draws curtains on proceedings.
Maas has delivered a compilation that combines seamless mixing and smooth transitions with some fantastic programming. A criticism that can be leveled here is that the mix could have done with more left of centre and less conventional tracks to really showcase Maas' crate digging skills. As a compilation its great and hits the mark with some solid tracks. As a mix it's just good, and at the end the listener won't feel like they've travelled an epic sonic journey, rather it feels like you've explored the fringes of Timo Maas capability and scope. It remains to be seen whether Maas will win over new fans with this compilation, but for those already in the know this should go down as another reliable addition to Maas' extensive and legendary back catalogue.

Tracklisting:
1. Eric Volta ft. Monolitio – Dreams Don't Turn To Dust
2. My Favorite Robot – Dead Of The Dance
3. DJ Sossa ft. Kara Square – Consumer W*** (Garbant Wave Mix)
4. Discern & Signal Flow – Coarse Language
5. Igor Vicente – Ashes
6. Tim Green – Plenty Of Spiders
7. Martin Buttrich – Bubble Heat
8. Timo Maas – Watching The Robots
9. Villanova – Ola
10. Pezzner & Amina – Exit (Sebastian Mullaert Remix)
11. Daniel Stefanik – Edge Of Motion
12. Chris Carrier – Wicked Night
13. Timo Maas & Santos – Z Panorama
14. Agoria ft. Scalde – For One Hour (Villanova Remix)