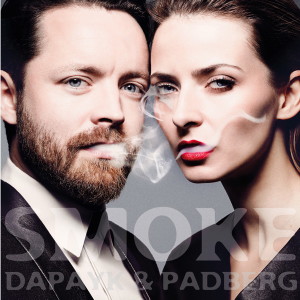 Berlin's Dapayk & Padberg will release their fourth album Smoke on Mo's Ferry this coming September.
The duo consists of real life married couple Niklas Worgt and Eva Padberg (a former Playboy and GQ model) who's been collaborating on music since 2003. For this new album the duo are looking to move further away from the dancefloor with new cuts that are "atmospheric hybrid-tracks"(sic). To find inspiration for this new sound they moved to dark autumnal lowlands at the border between Scotland and England. "The time we spent in Scotland was the most creative and productive time we ever had," explains Eva Padberg. "It was a wonderful experience to get up in the morning, have breakfast and after a long walk in the drizzling rain have nothing else to do then to sit in front of the log fire with a glass of whiskey in our hands and work on new tracks…"
The finished album contains "characteristics of dubstep, catchy pop-elements, classical string arrangements and a singer/songwriter-like intimacy" that they call their "Chamber-Electro mix"(sic). "For us it's always been about finding the cracks and about contrast", Niklas adds. "It's about challenging the listener. For me there is nothing more boring than over-produced, clean computer music."
Some of the artists already approached to deliver remixes are Marek Hemmann, Andhim, Sante and Rampa.

Tracklisting
1. Drowning Inside You
2. Layers
3. Headless Queen
4. Pavements
5. Ginger
6. Smoke
7. Ingwer
8. Silent Fireworks
9. Gingembre
10. No Words
11. Dark Days
12. Some Air
13. Joachims Kalimba
14. Dance In Your Flame