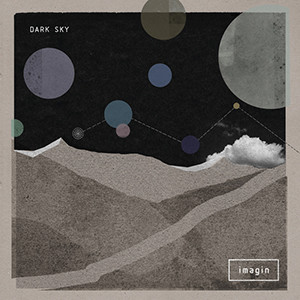 The much anticipated debut Long Player, 'Imagin', from London outfit Dark Sky finally comes to light on Modselektor's label Monkeytown Records.
Dark Sky is the trio of  Tom Edwards, Matt Benyayer and Carlo Anderson, and they have found success with several tracks on Monkeytown and 50 Weapons labels alongside stand out remixes for the likes of The XX and Maya Jane Coles.
As well as club orientated tracks, which Dark Sky are somewhat known for, 'Imagin' treads through other musical spaces of funk, rock and trip hop and takes on notable vocalists such as Grey Reverend, who features on the lead single "Silent Fall" as well as singer Cornelia (of Portico Quartet fame) featuring on multiple tracks.
With its musical versatility it seems their debut album is set to be warmly received with great crossover potential and as such Monkeytown Records seems like its rightful home with Dark Sky stating it  "feels like a very natural fit for the record given how our sound has evolved during the writing process over the last two years."
'Imagin' is out 22nd August on Monkeytown.
Tracklist:
1. Imagin
2. Silent Fall
3. Voyages
4. Lucid
5. Vivid
6. Nothing Changes
7. Odyssey
8. Rainkist
9. Manuka
10. Purple Clouds