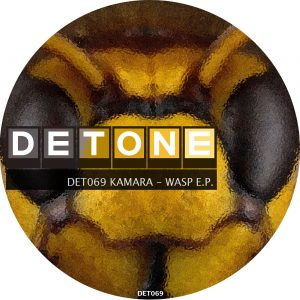 Launched by Darren Emerson in 2012 in a bid to discover and to nurture the next generation of techno talent, it was founded a time when the industry was only concerned with big names.
Detone's head honcho has been a very busy man indeed this year, who is working on his new album, in-between touring the world and performing with DJ trio '3D', alongside mates Dave Seaman and Danny Howells. The legend has also revealed plans to launch a new lead imprint and his most ambitious project yet, later on this year.
The label has served as both a home and launch pad for artists like Saytek, Kristin Velvet, Satoshi Fumi, and also Emerson himself throughout its 6 year tenure.
Its latest offering from Dutch live act Kamara has been getting serious attention from some of the biggest names in the business. The Dutch guys have already accrued impressive releases on legendary techno labels such Tronic Music, and Bush, whilst also picking up remixes along the way from legendary artists such as Carl Cox and Oliver Lieb…
Their sound palette is wide ranging within the techno sphere, from heavy repetitive techno, with ethnic undertones – to a more melodic, yet driving tech house sound.
A1) The lead titled track 'Wasp' epitomizes their sound perfectly – with the boys dropping a warm, trippy melodic techno anthem for the daytime crowd.
B1) 'Room to Room' is an altogether more darker, techy – late night affair. Discordant stabs lead the march of madness with its side-to-side bassline piling on the confusion.
Kamara's Wasp EP is out on Darren Emerson's Detone, July 6th 2018.
Tracklisting
1. Wasp
2. From Room to Room
https://www.facebook.com/Kamaralive/
https://www.facebook.com/DarrenEmersonMusic/
https://www.facebook.com/Detone12/