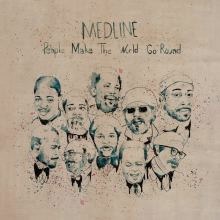 Medline is a musician, producer and DJ from Rennes, France with roots in Chile. Born Orlando Diaz Corvalan, Medline calls his music 'brown music' – a mix of afro, latin, funk and jazz with a hip-hop state of mind.
With his debut album 'People Make The World Go Round', the French producer is taking us on a trip down memory lane by paying tribute to the jazz funk masters who's music shaped the musical DNA of hip-hop: Roy Ayers and Lonnie Liston Smith to Freddie Hubbard and the Heath Brothers. Songs like 'Everybody Loves The Sunshine', 'Red Clay' or 'Smilin' Billy Suite' have been a staple amongst hip-hop and jazz fans alike for a long time. But the album is more than a sample song-book of 90ties rap. Medline reinterpretates the songs in his very own way. A beatmaker by trade, Medline acts as a one-man orchestra playing every instrument himself, with a strong focus on the flute. Think Herbie Mann joins Yesterdays New Quintett with a headnod towards broken beat. On three songs he is joined by Roni Alkekengi who's sultry vocals (and French accent) are a perfect match with Medline.
The album sleeve has been designed by Turkish artist Gizem Wintah. A limited vinyl edition of the album comes with three prints of Roy Ayers, Donald Byrd and The Stylistics.

TRACKLISTING
1. A New Day
2. People Make The World Go Round feat. Roni Alkekengi
3. Black Narcissus
4. Wind Parade feat. Roni Alkekengi
5. Eboness
6. Smiling Billy Suite
7. Everybody Loves The Sunshine feat. Roni Alkekengi
8. People Make The World Go Round (Instrumental)
9. Red Clay
10. Expansions feat. Roni Alkekengi