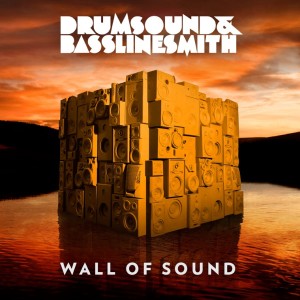 Drumsound & Bassline Smith are set to release their sophomore album on New State Recordings.
Drumsound & Bassline Smith – or, if you prefer, East Midlands boys Andy Wright, Ben Wiggett and Simon "Bassline" Smith – are optimists. It's not surprising in some ways: after many years working hard in underground music, they're achieving unprecedented commercial success, and after two and a half years of work they've finally completed the new album 'Wall Of Sound'.
'Wall of Sound' is defiant of the current fads in club music, and although drum'n'bass in tempo, it's completely shot through with the buzz and dynamics of modern electro, trap, a smattering of 4/4 and dubstep.

TRACKLISTING
01 Atmosphere (feat. Sam Frank)
02 Through The Night (feat. Tom Cane)
03 Epic (feat. Chezree)
04 Close
05 All Day (feat. Bam)
06 Freak (VIP Mix)
07 Tough Times
08 Daylight (feat. Hadouken!)
09 What Can You Do For Me (Utah Saints vs. Drumsound & Bassline Smith)
10 Pull It Up Selector
11 One In A Million (feat. Fleur)
12 The Only Way (feat. Ayah Marar)
13 U Ain't Ready For Me (feat. Youngman)
14 Back To Life (feat. Tom Cane)
15 Solitude
16 Revolution (feat. DRS)
17 The Weekend (feat. Phreeda Sharp)
18 Wall Of Sound