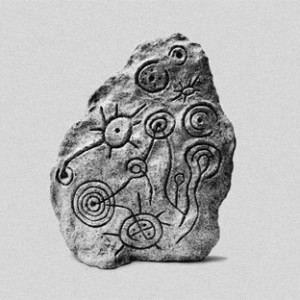 James Holden is one of those rare talents that come along once in a generation – a prodigy who takes on a certain discipline, turn it inside out and then take it into a totally different direction. He started his career inoffensively enough with 'Horizons', a track that -depending on what side of the fence you're on- is now considered a classic (Holden seems almost annoyed that he ever made it, calling it "naive teenage trance"). 2003 was a pivotal year in his career: he started the Border Community imprint and he compiled the fifth edition of the then fledgling Balance Series.  The Border Community label would introduce us to the magic of artists' like Nathan Fake and Petter, whilst his Balance entry would go down as a turning point for the Balance Series and the progressive/trance/techno/music movement in general.
Since then it seems like Holden has almost been fighting against the success of Border Community's bigger tracks like 'The Sky was Pink'  – he almost seemed frustrated by the barrage of copycats that came out of the woodwork trying to emulate that sound. After keeping low for 3 years, Holden returned in 2006 with his debut album 'The Idiots Are Winning', and a new mix compilation for the now de-funct At the Controls series, both releases introducing us to the world of weird, melodic techno based on mathematical rhythms and almost hallucinogen-like principles. Throw in 2010's DJ Kicks mix, and the accompanying fuzz-bliss of the 'Triangle Folds' single, and the transformation was complete.
This brings us to his second album 'The Inheritors', his first album in 7 years. In the time since we last heard Holden in an album format he has acquired a new production toy called the Max/MSP, and he has spent a lot of time getting his head around it. I'm not going to act like I know the tech spec's of this item but from what I can gather this new toy has allowed Holden the freedom to be more 'on the fly' with his productions: press record, jam along and the end result is just that… The end result, and no need for any further fussing over it. Whatever the process is the finished product is most definitely as entrancing as it's enchanting, and he has created a sound that feels tribal, religious and heavy at the same time. Just when you thought you knew Holden's sound he has gone and done it again: he has broken the music machine and re-assembled it in the most outrageous way possible.
Opening track 'Rannoch Down' features fuzzy feedback that seeps into your brain, busker-like drums and guitar strumming carrying it loosely: this is what a Ayahuasca session in the Amazon jungle would sound like. 'A Circle within a Circle' carries this motive too with its rain forest-like sounds, chanting, flutes and gated guitars that morphs in and out of consciousness. First single 'Renata' has most definitely been sucked into a black hole and the swirling melody is urgently trying to find its way out. Next up is a definite stand out of the album: 'The Caterpillars Intervention'  (if you listened to Holden's recent RA podcast you would know this one as it was featured towards the end of that mix). Think of a mass jam with 100 musicians all playing their own song, yet somehow playing together. The caterpillar in this case is guest collaborator Etienne Jaumet who intervenes in this cacophony of sound with a demented sax riff to give this track a hectic, yet weirdly hopeful feel. Here you can definitely hear those Krautrock influences that Holden's been spruiking of late.
'Sky Burial' has metallic percussion, heavy feedback and a ebb-ing and flo-ing Rhodes organ that feels almost authoritative in its tone. 'The Illuminations' creates an illusion of you floating around in inter-galactic space; pops and blobs gently exploding all over the place (sorry, I couldn't resist). 'Inter City 125' is an odd sounding thing with a curious melody line that keeps on swaying in and out. 'Delabole' does its best to trance you out as voices from the distant past makes an appearance, asking you to heed the melody's warning. Most peculiar track award goes to 'Seven Stars' – complete with eerie organs and distorted synths, this is what it would sound like if Laurel & Hardy had way too many magic mushrooms and spiraled out of control into a pit of carnival madness.
Convulsing in the bushes somewhere is 'Gone Feral', the melody running wildly like a headless chicken. We finally get some familiar Border Community style sounds with title track 'The Inheritors', which offers an breakbeat-sounding and driving bass platform for the vintage BC melody to work its magic from. 'Circle of Fifths' invokes some crazy melodic patterns, whilst 'Some Respite', with its ambient touches, offer some… erm… respite from all the madness before it. Holden keeps some his of best work for last though with the highly uplifting 'Blackpool Late Eighties', confirming that he still has a soft spot for some of that 'naïve teenage trance' that catapulted him to the fore. Finally, 'Self Playing Schmaltz' finishes the album on a somber sounding and contemplative note, its atmospheric tones washing over you.
What can I say? I've not been this obsessed with an album since the debut from Moderat in 2009. On first listen you will be spooked – and you should be spooked as you definitely wouldn't have heard anything like this before. Don't be disheartened on the first listen though and give it the time it deserves – there is so much to hear inside this album and each listen opens up a new clue to the riddle. Holden has managed to create an album that sounds deeply rich and textured – an amazing feat considering the minimal amount of elements that each track employs. He has created a whole new world with a sound that puts you in a trance from the opening chords of the first track to the last reverberated fade out of the closer. Think of the most extravagant and oddly weird carnival that you can ever imagine attending, and you won't even be close to what this album can offer you.
This is a unique, weird, beautiful and ugly experience all rolled into one fascinating mass of otherworldly audio.