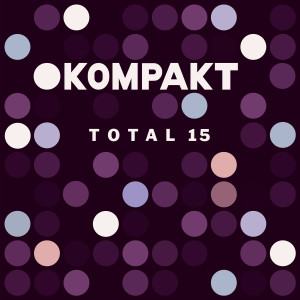 When it comes to conversations about your favourite records labels, it really is easy to bring Kompakt into the discussion. They frequently sign tracks which regularly appear on all sorts of DJ playlists and podcasts, and you can find a documented collection of these releases on their annual Kompakt Total compilations, a tradition since 1999 to present us with their yearly "bestsellers and favorites from our current catalogue".
This time around Total 15 includes a selection of 24 full-length tracks spread across 2CDs, a strong and varied collection of tracks, which, in true Kompakt fashion, can sway between coolly underground, to wildly interesting, and at times, a bit saccharine.
Examples of the latter is the CD1 opener of Kolsch's 'DerDieDas', which veers towards the open air parties with a melody right out of any festival playbook, while Terranova's 'Skin & Bones' display the sort of overly sentimental vocal which might frightened off those accustomed to the mid- 00's Kompakt. On the other hand, Audion's 'Dem Howl' is an almost pop-inspired vocal production which is a excellent example of the label getting that overground/underground balance spot on, the Troels Abrahamsen vocal packing an emotional punch which should resonate with anyone who is gifted with the power of hearing.
It's also on the first disc where you can find one of this year's highlights, the stunning 'Epika' from Guy Mantzur and Roy RosenfelD, which features a bellowing bass and nostalgic piano to deliver one of this year's strongest tracks. The excellent Patrice Baumel's 'The Vanishing' is a moody number which starts of with percussive loops that keep on building, layers of sound and distant vocals adding to the suspense. The Agoria retouch of his own 'Bapteme' stands out with a dramatic punch which is matched by its dance floor potential.
Whereas CD1 is focused on the more conventional and clubbier side of the Kompakt spectrum, CD2 features more obscure and left off-centre selections. The BPM's are cranked to a crawl on tracks like Coma's 'Lora', a slow broken beat number which is perfect to soundtrack a lazy Sunday ocean drive, and  Saschienne's 'Chambre Bleue', a sedated pole dance instrumental designed to get the windows steamed up. One of the more stranger moments on the compilation are delivered by Superpitcher who's abstract 4/4 beat of 'Freiherr' lays the foundation for a bed of Ayahuasca flutes and bending synths, all of which will probably make a lot of sense on the dusty floors of Burning Man.
It's not all leftfield though as some vintage-sounding Kompakt tracks from Reinhard Voigt, 'The Buddy', and Rex the Dog, with 'Sicko', make a welcome appearance. Both tracks circumvents the neo-trance for tough, minimal excursions which has more in common with Kompakt 2005 than Kompakt 2015 (especially 'Sicko' with its Gameboy–breakdown should induce some decent dance floor action). No 2015 Kompakt roundup will be complete without a Dauwd track, so enter stage right 'Jupiter George', a disco slash balaeric gem which should feature on a lot of end of year best of lists.
The compilation really does feature an eclectic collection of tracks which is amazing value for money (especially if you're a DJ). The only downside here is that the majority of DJs would already own a lot of these tracks, but there should be enough here to keep even the most ardent Kompakt collector happy. If you'r not a DJ and approaching this as a general electronic music fan… let's face it, you probably are a long time Kompakt supporter already in which case you will fall in love all over with the German label. Regardless of which tracks you own (or not own), Total 15 is testament to how essential Kompakt is to the global scene.