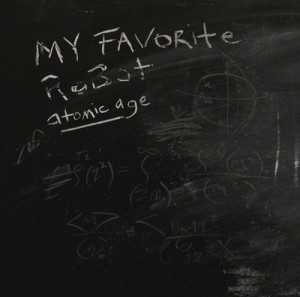 Toronto based My Favorite Robot will release their second full length album Atomic Age on No.19 Music this coming September.
Over the last couple of years the production pairing of James Teej, Jared Simms and Voytek Korab have made quite a name for themselves releasing on labels like Crosstown Rebels, Visionquest, their own My Favorite Robot Records and of course, No.19 Music. Releasing this new album on fellow Canadian label No.19 Music seems a natural evolution for MFR – they share a relationship with he label that stretches back to their formative years when they shared an office space in Toronto with Jonny White's No.19 Music crew.
My Favorite Robot looks to be taking their sound to newer plains over the course of 12 tracks that promises to deliver 'synth driven electronica', 'acidic stylings', 'down tempo electro' and 'dark edged' vocal cuts.The official album release party will be in New York at Highline Ballroom on September 20 and they will continue to celebrate with worldwide album tour dates throughout North America and Europe, featuring stops in Toronto, Montreal, Paris, Barcelona and London.
Tracklisting
1 – The Circus
2 – Here Tonight
3 – Looking For Frost
4 – Ride
5 – Space Capsule
6 – Missing Time feat. Chloe
7 – Home feat. Clayton Steele
8 – The Walk
9 – Centreofattentionaut
10 – Atomic Age
11 – Sharpest Tongue
12 – The War To End All Wars