British production duo Rae & Christian will release their third studio album entitled Mercury Rising on the Late Night Music label.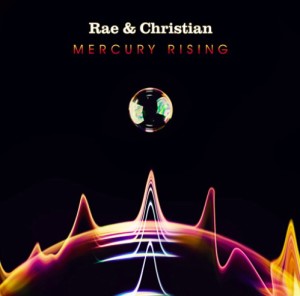 A past Mercury Prize nominee, Rae & Christian emerged in the late '90s as a successor to the decade's many stellar British production teams, updating the rich urban grooves of Soul II Soul and Massive Attack with a bit more emphasis on classic hip-hop. They are also responsible for introducing the world to their Grand Central Records imprint – a label that is now defined as one of the most important labels of the late 90s soul/funk/hip-hop/beats scene.
On Mercury Rising the duo promises to weave together their 'exceptional musicianship with a British song writing sensibility and the finest elements of studio production'. The album was created at producer/musician Steve Christian's studio in Yorkshire with additional recording at songwriter/vocalist/DJ Mark Rae's London base. "We wanted to make British songs so spent time exploring the early 70's folk scene and lent heavily on local UK talent for the guest vocalists. The song writing is varied with a broad base of subjects ranging from female Russian snipers, monkeys who attack, commuting and redemption." says Mark Rae.
Some of the guest collaborations to be found on Mercury Rising will be Sam Genders of Diagrams (and former frontman of Tunng), rapper Jake Emlyn, Mark Foster of Foster The People, Australian DJ Agent 86, and American hip-hip icon/turntablist/rapper Jazzy Jeff. This is the first studio album release by Night Time Tales which is an off-shoot label of Late Night Tales – the renowned artist-curated compilation series featuring editions by Groove Armada, Friendly Fires, Belle & Sebastian, The Cinematic Orchestra, Midlake and MGMT.

Tracklisting
1. Happy – Featuring Mark Foster (Foster The People)
2. Check the Technique – Featuring Tony D, Jazzy Jeff, Agent 86
3. 1975 – Featuring Diagrams
4. Still Here – Featuring Gita Langley
5. Travis
6. Dancr – Featuring Mel Uye Parker
7. The Ballad of Roza Shanina – Featuring Ed Harcourt
8. Still Life Freefall – Featuring Kate Rogers
9. A2B – Featuring Mystro, Masta Ace and Pete Simpson
10. Favourite Game – Featuring Jake Emlyn
11. Sweethome
12. Mercury Rising