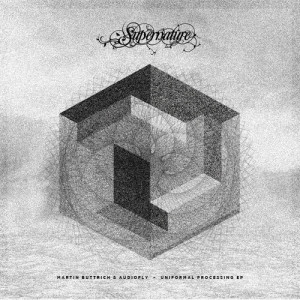 Admittedly I'm more than just a bit of a Martin Buttrich fan, but his latest offering definitely quenches my thirst for his trademark stripped back and groove-based house music. Buttrich's latest offering comes in the form of a collaboration with Audiofly which serves as a great showcase of their respective sounds. The dance floor never being too far from mind, the tracks have a nice momentum and features perfectly executed percussive rhythms and understated lashings of processed vocals.
'9th configuration' starts predictably simple enough with crystalline crunchy claps and percussion, building into a multi layered and complex tech house epic using the full 8 minutes to really show a nice breadth of sound and melodic drama.
'Uninformal processing', the more serious of the tracks, goes deep and is a slow burning thumper with sliding dubbed-out bass notes and a brooding background atmosphere that ends up taking the track into more hypnotic territory.
'Something happier'  is just that and is much lighter in feel than the other tracks on the EP. This is an easily digestible number that has charm in its deceptive simplicity and is kept going by the momentum in the shakers and hats (which has a real organic tonality to it). Layers of quirky blips, blops and short vocal phrases compliment the bass groove and main chord melody perfectly. This to me is quintessential Martin Buttrich with a hint of Audiofly's production talents.
Produced while the pair were in Barcelona late last year, we can only hope that this isn't a one off collaboration between the two. The EP is out now on all digital stores through Supernature.