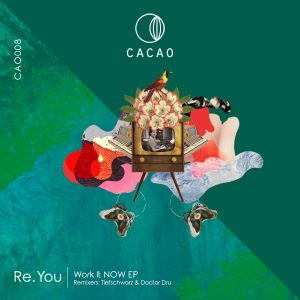 Re.You just dropped his stellar 'Work It Now EP' on US-inspired, Berlin-based Cacao Records for their eighth release.
Bringing a taste of house and jungle to the party, Re.You's two-track offering is familiar yet progressive, it gives the listener a feeling that they may know the artist… but catch themselves asking "who's this track by again?".
Title-track 'Work It Now' is the amalgamation of old-school house with a touch of hip-hop. It's unpolished sound stays true to many of Re.You's pieces, but still manages to land itself outside of his usual groove. Stand-out features include jacking hi-hats and a looping melody that find themselves progressing through (just about) the entire seven minutes of the track, meanwhile listeners may not even realise the faint clap hiding out the back that keeps things moving along nicely.
'Work It Now' is it's minimalist African B-side 'Miu'. The assortment of rotating percussion consciously flows through the jungle of dance it creates, led by the native vocal loop that only makes room for some sinister noise in the break – a gorgeous piece indeed.
Accompanying the original works are two remixes from highly sort-after artists, Doctor Dru and Tiefschwarz. Injecting a welcomed taste of acid house, Doctor Dru's take on 'Work It Now' seamlessly builds to it's climax where once the listener reaches it's final break, the result is truly breathtaking. Rounding off the EP are Berliners Tiefschwarz who have also risen to the occasion. Their tambourine tapping, synth-heavy take on the title track is a credit to Re.You's work and their own.
Always a pleasure and never a chore, Re.You and his peers have absolutely nailed the 'Work it Now EP' which is out now.
Review by Stefanos Mak