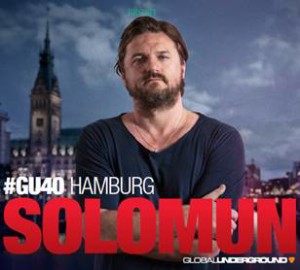 After a 4 year break Global Underground returns with the 40th edition of the legendary 'City' series.
The series first came to light in 1996 when Tony De Vit started it all off with his Tel Aviv entry, and since then there has been a slew of internationally renowned DJs come into the GU fold such as Paul Oakenfold, Danny Tenaglia, Dave Seaman, Steve Lawler, John Digweed and Sasha, whose Ibiza edition went on to sell more than 40,000 copies in the UK alone. The seminal series has picked up where it left off by securing another world renowned and loved DJ, Solomun.
For this special edition of the 'City' series Global Underground hosted the release party in the highly regarded club Ego in Solomun's home city of Hamburg, where he played for more than 6 hours. Solomun himself ran the club for 7 years before he came into dance music notoriety by winning Mixmag's 'DJ of the Year' in 2012 as well as 'Best Producer' at the DJ Awards Ibiza. He has also  further cemented his place in the top ranks of the dance music world with his successful label Diynamic and his club nights at Sankeys, Ibiza.
Across two discs Solomun has collected an impressive array of tracks and remixes from the likes of Christian Loffler, Oliver Huntemann, Fango, Alter Ego, Ada, Boris Werner, Audiojack, Broken Bells, Avatism, Mooryc and more.
Tracklisting
CD1
1. Christian Loffler – Blind
2 . Mooryc – Simply
3. Sevensol & Bender – Captain Trollig
4. Avatism – Different Spaces
5. Lake People – Point in Time
6. Jonas Mantey – Sie Ist Schoen
7. Bonobo – Cirrus
8. The Elite DJ Phono – New Years Eve
9. Animal Trainer – Dragon Games
10. Superpitcher – Heroin
11. Broken Bells – Holding On For Life (Solomun rmx)
12. PLANNINGTOROCK – Let's Talk About Gender
13. Jai Paul – Jasmine
14. SOHN – The Wheel
CD2
1. Margot – Voice Chord
2. Oliver Huntemann – Schatten
3. Solomun – Medea
4. Sossa                – Moog
5. Manuelle Musik & Steffen Sonnenschein – Adonis
6. Daniel Avery – Naive Response
7. Oliver Giacomotto – Lovin Berlin
8. Karl Friedrich – Claps
9. Audiojack – Machine Code
10. Fango – Wek (Despejado Mix)
11. Radio Slave – My Bleep (Roman Fluegel Mix)
12. Voiski – Ad Infinitum
13. The Rice Twins – For Penny & Alexis
14. Alter Ego – Gary (Boys Club Mix)
15. Ada – BUM BUM