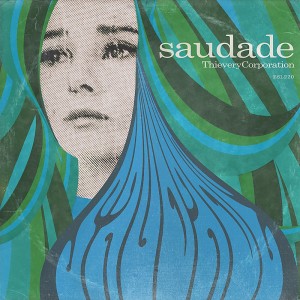 Thievery Corporation have released 'Saudade' which is their latest album through their own ESL Music label.
One of the things that brought Eric Hilton and Rob Garza together as Thievery Corporation back in the 90's was their shared love of latin music, and in particular bossa nova. And now with their new album 'Saudade' comes a return to the source as the duo goes back to their shared passion of Brazilian bossa nova to bring us a very personal and inspired production.
The new album will draw influence from classic Brazilian bossa nova artists like Antonio Carlos Jobim, Gal Costa and Luis Bonfá to name just a few, as well as borrowing the smooth as silk vocals from LouLou Ghelichkhani (who has been a longstanding Thievery Corporation collaborator), Natalia Clavier and more. 'Saudade' will also feature collaborations with artists that are better known in the electronic dance music scene like U.N.K.L.E. drummer Michael Lowery.
'Saudade' itself is a Portuguese term used widely in Brazil with no direct English translation meaning a deep emotional state of nostalgia or profound melancholic longing. "Saudade is the essence or feeling of true bossa nova," explains Hilton, who names "those warm, soulful, melancholic vocals" as the charm and attraction of bossa nova.
Tracklisting:
1. Décollage feat. Lou Lou Ghelichkhani
2. Meu Nego feat. Karina Zeviani
3. Quem Me Leva feat. Elin
4. Firelight feat. Lou Lou Ghelichkhani
5. Sola In Citta feat. Elin
6. No More Disguise feat. Lou Lou Ghelichkhani
7. Saudade
8. Claridad feat. Natalia Clavier
9. Nos Dois feat. Karina Zeviani
10. Le Coeur feat. Lou Lou Ghelichkhani
11. Para Sempre feat. Elin
12. Bateau Rouge feat. Lou Lou Ghelichkhani
13. Depth of My Soul feat. Shana Halliga
Australian Tour:
Tue 9 Feb: #BRISBANE
The Tivoli, Brisbane http://found.ee/Thieverybne
Thu 11 Feb: #SYDNEY
Enmore Theatre, Sydney http://found.ee/Thieverysyd-1
Fri 12 Feb: #MELBOURNE
Forum Theatre, Melbourne http://found.ee/Thieverymel