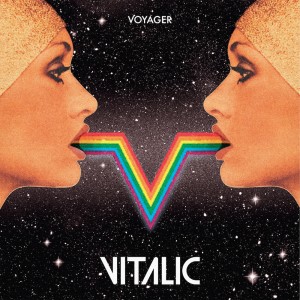 I have always been intrigued by the unique charm of French electronic music. French electronic artists seem to have an uncanny ability to manipulate synths in such a way that makes their sound so undeniably French. Whether it be an underlying sensuality, the quirkiness of a broken beat, the bravado of melding facets from other, sometimes polar, musical genres; or blurring the lines of music and noise, dance and electronic music fans can certainly distinguish a French track from the others.
One of the early pioneers of French music is Pascal Arbez-Nicolas, aka Vitalic. His contributions to techno music is well documented, and he is perhaps one of the first French artists to help the distinct electronic sound infiltrate the techno fraternity. But Vitalic was never that clear cut with regards to his sound identity, and his work is always a melting pot of musical genres (whilst still remaining undeniably French of course).
His latest album (four years since his last release 'Rave Age') maintains this melding pot sensibility; and whilst 'Rave Age' was more of an ode to the golden age of techno and rave music, 'Voyager' seems a bit more refined, like as if Vitalic has reached an age where he now has time to take stock of where he has come from, and be a bit more reflective and poignant.
He opens the album with El Viaje, a scurrying synth electro pop that can easily be used as a foundation for an array of eclectic remixes. And if you thought that this sets the stage for the rest of the album, then you'll either be surprised or disappointed. He follows this with the lead single, Waiting For The Stars, featuring David Shaw and The Beat, a typical French dance-pop number that harks to the likes of Kavinsky, Miss Kittin, The Hacker and Justice. But then the edgier Levitation hits the speakers, and you are transported to the sweaty realms of a basement club dancefloor, surrounded by latex, leather, and spunk.
Vitalic switches it up again with electro ballads of Hans is Driving and Eternity (the crescendo will just blow you away), as well as the industrial, tech spoken word of Sweet Cigarette which sounds like a mellowed-out Gesaffelstein track. And as a final twist, Vitalic closes the album with a French synth ballad cover of Supertramp's Don't Leave Me Now, rendering it with more of a haunting, post-apocalyptic feel. A fitting album closer.
At just over 40 minutes, it may not appear that this album can deliver much substance and depth, but Vitalic proves otherwise. Some will be thankful that he has not continued the overbearing approach of 'Rave Age,' for it may have further compromised his past showings of ingenuity and creativity. In Voyager, Vitalic has certainly made grounds for redemption.
Words by Leo Varona