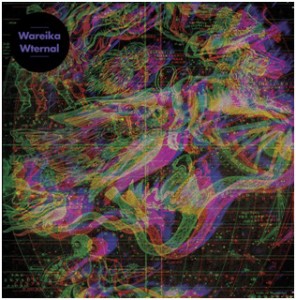 Hamburg three piece band Wareika will release their third album called Wternal! on Visionquest.
On this new release Wareika looks set to continue their sonic and electronic explorations of traditional folk, Balkan-Jazz. balaeric soul and garden house through their unique use of vintage synthesisers and dubby rhythms, taking inspiration from all the tours they've done over the last 3 years:
"The main inspirations for Wternal where all the concerts we played around the world over the past 3 years. Looking at the moon over the Black Sea on the beach of Odessa, flying over the green hills around Medellin during sundown, drinking very good vodka with very honest people in Kharkov, Ukraine and of course playing playing playing in front of fantastic enthusiastic people everywhere. These moments made up the spirit for this album.
Wareika consists of musicians Henrik Raabe, Jakob Seidensticker and Florian Schirmacher, and together they form one of the very few live bands on the international electronic circuit ("Of course we are a bunch of electronic music producers, but before that, we are a band"). They first came together in 2007 and since then have released on acclaimed labels like Eskimo, Future Classic and Circus Company, as well as three studio albums on Perlon, Connaisseur and Tartelet Records.
The lead single from the album will be 'Madame Scorpion' featuring Derek Kamm which will also be accompanied by a remix from Henrik Schwarz.

Tracklisting
01. WIntro
02. All These People Around Me
03. The Floors Morphosis
04. Black Sea
05. WInterlude
06. Five Edges
07. All Little Things
08. Ocean's Drive
09. La Paloma
10. Madame Scorpion (feat. Derek Kamm)
11. After Berlin
12. Wternal